The Plano Fire-Rescue Urban Search and Rescue Team's Steph Bouillion-Mayer has a distinction in her field that she is hesitant to highlight.
"I'm proud of her and proud to be able to see the accomplishments coming together," Bouillion-Mayer's Urban Search and Rescue team member Anthony DiMarco said standing next to her and fellow USAR team members Wesley Holland and Jeremiah Grant.
Bouillion-Mayer recently completed hundreds of hours of extra training to achieve the highest certification as an Urban Search and Rescue Specialist.
"Third female in the world, first here in Texas. The other two are up in New Jersey," Bouillion-Mayer explained. "It's a small arena as it is. Less than 1% of the American fire service is female, and then you take that and you go to an even smaller arena of special rescue. There are just not that many girls in it."
"We're who firefighters call to come help," Holland said. "So we're beyond that rescue that's the bread and butter rescue. We're the crazy-type rescue."
The kind of rescue that might follow a tornado or building collapse.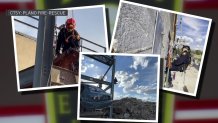 Bouillion-Mayer said she always wanted to be in fire and rescue. The top certification has been her goal for nearly a decade.
Local
The latest news from around North Texas.
"I think I bring the same skills and same ability that anybody does, no matter what their race, gender, ethnicity is," Bouillion-Mayer said. "If your heart is in it, you can do it. Don't let anyone tell you what you are or are not capable of."