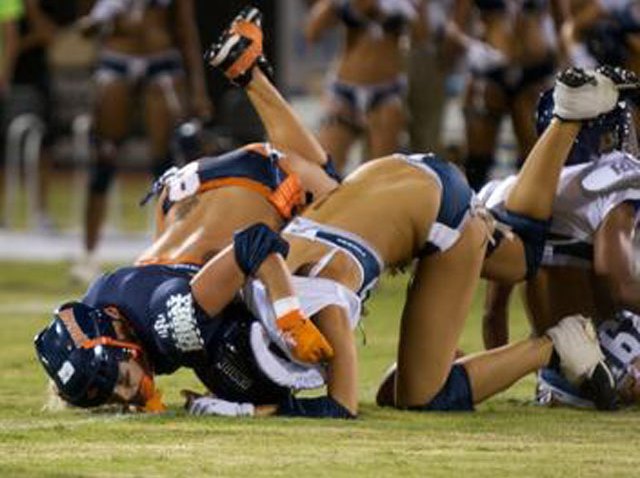 The undefeated Dallas Desire (2-0) take the field in their final home game of the year Friday night against the visiting Los Angeles Temptation.
So far this season, the lingerie-clad Desire have handily defeated their opponents. They won their home opener against the Denver Dream 20-6 and followed that with a blow-out 40-6 statement-making win in San Diego against the Seduction.
If you've never seen a lingerie game, don't be fooled into thinking this is some powder puff league. The hits are real and the women play the game just like the big boys -- only wearing far, far less. See, in the lingerie league, the players wear a bra, panties, shoulder pads and a helmet.
Local
The latest news from around North Texas.
During a heated play in the home opener, running back Annie Haner said after the whistle blew she took a shot that knocked out a tooth. Haner retailiated and promptly earned a one-game suspension, the league's first, from Lingerie Football League chairman and founder Mitchell Mortaza.
"Annie Haner is an incredible talent who plays with a lot of intensity and passion for the game, exactly what we want from all LFL players. However, we ... cannot afford outbursts like the one Annie displayed on Sept 25 against the Denver Dream," Mortaza said. "With young women now aspiring to one day perhaps play in the LFL, our players actions and words have to reflect that of a role model."
Haner is expected to be back on the field for the Friday night's game.
The Desire play their home games at QuickTrip Park in Grand Prairie. Tickets are still available and can be purchased by calling 877-883-3747 or by going online. Seats range from $10 to $95.
After a two-month hiatus, the Desire will close out their four-game regular season on Jan. 1, 2010 in Seattle against the Mist.
Going to the game Friday night? Send us your photos of the action through our new iPhone app!