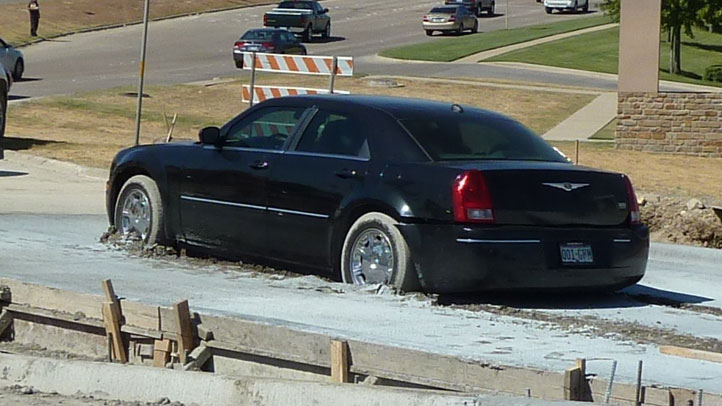 You know those warning signs posted at street construction sites? The ones that read, oh, I don't know, "Do Not Enter?"
Local
The latest news from around North Texas.
Yeah, those are kinda there for a reason.
An NBC DFW viewer-reader snapped the photo you see at the top of this piece back in August and submitted it a few days ago. Probably allowing time for the concrete to dry. It happened, she wrote, "in a construction area along I-20/820 in southwest Fort Worth," in broad daylight, I might add, and I just did.
Apparently, Mr. or Ms. Self-Important thought the sign applied to everyone except him or her, so he or she ignored the warning and turned in anyway. Problem was, as visible in the photo, the car sank up to its rims in wet concrete. Or is it cement when it's still wet?
Either way, explain that to the insurance adjuster, and try to make yourself out to be the innocent victim.
So let's review. Drivers should heed construction zone warning signs — or suffer the consequences, as did Mr. or Ms. Self-Important — particularly those telling drivers to slow down when construction workers are present.
Cleaning concrete off a car is one thing. Blood is quite another.
Bruce Felps owns and operates East Dallas Times, an online community news outlet serving the White Rock Lake area. He wonders that if everyone believes they are entitled to special dispensation from the rules then who are the rules made for? Yeah, yeah, preposition.
The views and opinions expressed here are those of the author and do not necessarily reflect the views of NBC, NBC 5, NBCDFW.com or its employees.
Copyright FREEL - NBC Local Media