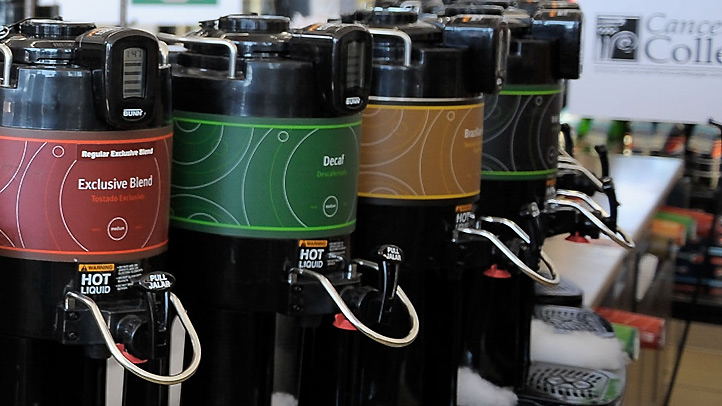 Happy National Coffee Day, and thank you so much for the lovely cards.
Local
The latest news from around North Texas.
To commemorate such an auspicious occasion — because every coffee bean gets its day and Sept. 29 is it — a few retailers will give away a free cup of coffee to customers who ask politely.
Dunkin' Donuts may or may not be on the list of participating java joints, according to The Christian Science Monitor, so you might want to improve your odds and go for a sure thing.
Krispy Kreme and 7-Eleven for certain offer free cups of coffee, and personally I'd opt for the former because that free cup would pay for a doughnut or two.
Starbucks, though, said, paraphrasing here, "Nah, forget it. You're already hooked on this stuff and you'll pay like always, so get out that credit card Mr. $30,000 Millionaire-boy and pony up for that $13 venti frappo-mocha-latte-kaffi thing you're so persnickety about. Sheesh, it's just coffee."
OK, maybe they didn't say it exactly that way, but that's kind of the gist.
Bruce Felps owns and operates East Dallas Times, an online community news outlet serving the White Rock Lake area. You would not like him before his first cup of morning coffee. OK, you'd like him even less.
The views and opinions expressed here are those of the author and do not necessarily reflect the views of NBC, NBC 5, NBCDFW.com or its employees.
Copyright FREEL - NBC Local Media