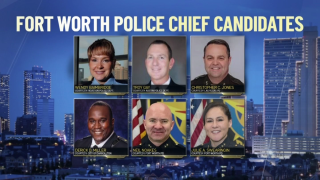 The public had the chance to meet the final six candidates for Fort Worth Police Chief during more than two hour socially-distanced community forum Thursday night.
The final six candidates for a new chief were narrowed down from a pool of more than 50 applicants.
The form was moderated by NBC 5's Deborah Ferguson who read multiple questions that were submitted directly by residents prior to the forum. Click here to watch a recording of the forum.
A Plan for Violent Crime
The very first question addressed during the forum asked candidates what their plan would be to reduce the increase in violent crime and homicides seen in the city of Fort Worth in the past year. Here's a portion of their responses:
"If you're talking about crime, you have to work on that intelligence on what's going on within those gangs. Who are the shotcallers in the robbery groups? And that takes more than just looking at data. Get with the DA's office. Get with the feds," said Wendy Baimbridge, assistant chief of Houston Police.
Local
The latest news from around North Texas.
"The community needs to have a voice in how to address crime. It's a force multiplier. The police department is only a small segment of the community, but together by creating tip lines, two way communications,"said Troy Gay, assistant chief for Austin Police.
"We know from experience that we have to solve the shootings and the violent crimes that don't result in murder… and we will have a direct impact on murders," said Christopher Jones, assistant sheriff for Las Vegas Municipal Police.
"Economic strains, the inability to attain middle class goals, all have factors in the causation of crime. The police department by itself cannot tackle these problems. So we need a holistic approach bringing the community along with us," said Derick Miller, chief of Carrollton Police.
"What were wanting to put together is a team designed specifically to deal with non-fatal shootings," said Neil Noakes, Deputy Chief for Fort Worth Police. "We put the same training, we put the same investigative power into investigating the non-fatal shootings and in doing so we will be preventing some of the homicides will be happening right away."
"How do we do that…is we build the trust with the community members. We get back to the old beat cop concept, think of it as grass roots," said Julie Swearingin, assistant chief for Fort Worth Police. "You know if I have a beat, I will know who's in my beat. I develop that relationship with you and I build that trust with you."
Community Reaction
Pamela Young, community organizer with United Fort Worth, said she planned to attend the meeting virtually. United Fort Worth is an organization focused on criminal justice and civil empowerment, Young said.
She added, the next chief needs to be a leader who can listen.
"Listening to the communities that have been directly impacted the most by policing, historically disadvantaged and marginalized communities. Black communities, brown communities, immigrant communities, poor communities, disabled communities, LGBTQ communities," Young explained. "We need a bold leader who is not afraid to make the structural changes that the Fort Worth Police Department sorely needs."
The message was echoed by long-time community activist Michael Bell, senior pastor at Greater St. Stephen First Church.
"That chief needs to have a track record of having dealt with communities of colors. What kind of plan did or she implement in the last assignment?" Pastor Bell said. "Right now, there is no place to go up but up. The relationship between the Fort Worth Police Department and particularly the African-American community that relationship is non-existent, even though there are maybe flashes here and there of some kind of meaningful effort."
Prior to the forum, stakeholders including the Fort Worth Police Officers' Association met with each candidate. Association president Manny Ramirez said the next chief needs to be someone who can focus on a plan to drive the violent crime rates down.
"The thing that's most important is not what you hope to do, but what have you done? What have you shown us in your career, various careers across this industry that leaves us to believe you're the best person to take the helm?" Ramirez said. "I know with confidence that Fort Worth is going to be in good hands going forward. It's just making sure that the final selection really is the best of the best."
Interview Process Continues
On Friday, the candidates will undergo panel interviews with the city manager executive team and department heads from the city of Fort Worth. The city's goal is to make a choice by the end of January.
Here are the final six candidates:
Wendy Baimbridge
Since March 2017, Baimbridge has been assistant chief of the Houston Police Department. Her tenure with HPD started in 1992. She has a master of arts degree in sociology from the University of Houston-Clear Lake and a bachelor of business administration degree from the University of Houston.
Troy Gay
Gay has been with the Austin Police Department since 1991 and has served as assistant chief at the Austin Police Department since January 2013. Gay has a bachelor's degree from Texas State University, performed graduate work in criminal justice at the University of Virginia and graduated from the FBI National Academy.
Christopher C. Jones
Jones has a bachelor of arts degree in criminal justice from the University of Nevada, Las Vegas and graduated from the FBI National Academy. Since February 2020, he has been assistant sheriff with the Las Vegas Municipal Police Department.
Derick D. Miller
Miller has 28 years of service with the Carrollton Police Department and has served as Chief of Police there since November 2017. He has a master of arts degree in criminology and criminal justice from the University of Texas at Arlington and a graduate certificate in criminal justice education from the University of Virginia.
Neil Noakes
Noakes has a master of science degree in criminal justice and criminology from Texas Christian University and a bachelor's degree in criminal justice administration from Tarleton State University. Since March 2019, he has been deputy chief of the Fort Worth Police Department.
Julie A. Swearingin
Swearingin is assistant chief of the Fort Worth Police Department. She has a bachelor of science degree in criminal justice administration from Tarleton State University and graduated from the FBI National Academy.