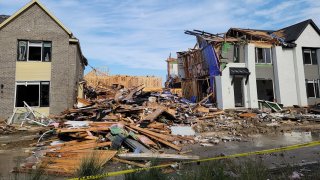 An apparent early morning explosion caused by a gas appliance left on destroyed at least one townhome under construction in Arlington and damaged several others nearby.
The Arlington 911 center received numerous calls about an explosion and fire near the 4100 block of Viridian Village Drive very early Saturday.
Arlington Fire Rescue crews found evidence of an explosion with a small fire in an unoccupied building that had suffered major structural damage.
Photos on social media showed flames and rubble between buildings. Debris littered the road and area in front of a nearby apartment building.
Explosion and Fire Rocks Viridian Complex Under Construction in Arlington
Photos shared with NBC 5 on Saturday show damage to surrounding buildings.
The construction company's engineers will look at the damaged building to determine what needs to be done to ensure the affected area is safe to enter, according to the Arlington Fire Department.
Local
The latest news from around North Texas.
The initial investigation shows this was the result of a gas appliance not fully turned off. The Arlington Fire Department says they have no reason to believe residents with gas appliances need to be alarmed, but it's important that all gas appliances are completely turned off when not in use.
According to Atmos Energy, technicians verified that the system was operating as expected and found no indication that the system was involved.
Crews from the City of Arlington, Viridian, and Atmos working to clean up the affected area.