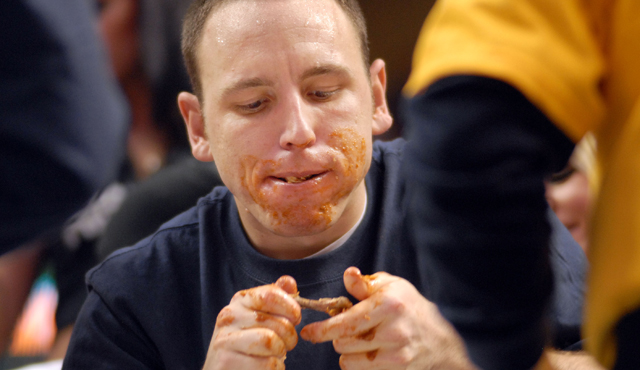 There is just no getting around the inevitable.
Local
The latest news from around North Texas.
Snow and ice, the same snow and ice that hampered events leading up to Super Bowl XLV — and we're still talking about that thing? — nearly killed the Wingstop World Wing Eating Championship. Turns out, the weather just put the eat-off into a coma.
Well, it woke up and is back on for tonight. The Roman numeral-less Wingstop World Wing Eating Championship, sanctioned by Major League Eating, takes place at 6 this evening outside the American Airlines Center, just before the Dallas Mavericks' final home game of the season — hang on; What? Oh, the last game of the regular season, not just the last home game? Yeah, whatever.
Anyway, the contest pits No. 1 ranked Joey Chestnut against a field of about a dozen speed-eaters — including Sonya "The Black Widow" Thomas, the defending wing-eating champ, and Pat "Deep Dish" Bertoletti, ranked No. 2 in the eating world and No. 1 in the game-specific nickname world.
It's an all-you-can-eat-in-12-minutes format, and the winner pockets half the $10,000 total purse.
All atingle with anticipation, aren't you? Nah, didn't think so.
---
Bruce Felps owns and operates East Dallas Times, an online community news outlet serving the White Rock Lake area. He can't help but wonder if there are different championship belts for wings, hot dogs, corny dogs, jalapeños, and Twinkies or is it just one big title?

Copyright FREEL - NBC Local Media