Talking with the Rivas family over video call, you can't help but notice that bundle of joy on mom's lap.
"He's just a chunky little baby," said Javier Rivas, holding a toy up to his 6-month-old son, Miles.
Baby Miles is happy and healthier now but it's been a long journey in the last few months.
"With them being sick, it's so hard. You want to stay strong," said Mariah Rivas, Miles' mom.
The Air Force parents have been raising their family while stationed at Barksdale Air Force Base in Bossier City, Louisiana.
They were over the moon for their newest addition and a new baby brother for the couple's toddler, Mateo earlier this year.
Local
The latest news from around North Texas.
While the pregnancy was normal, there were some hiccups at birth, with Miles entering the world with a broken collar bone. But as a little fighter, he recovered.
However, a month later things took a turn.
"He started sneezing and coughing and we thought, babies shouldn't get sick like that," said Javier.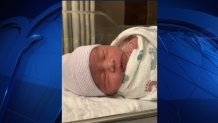 Chest x-rays at a hospital near their base showed his heart was bigger than it should be. Cardiologists diagnosed him with a rare heart condition called dilated cardiomyopathy.
In babies with dilated cardiomyopathy, the heart muscle becomes enlarged and cannot effectively pump or circulate blood to the lungs and the rest of the body.
Mariah said Miles was still having trouble gaining weight and wasn't eating normally. He was sleeping more than he should and the walls of his heart kept getting thinner.
"The doctor did warn us ahead of time that medication might not be the only answer," said Mariah.
Doctors also said there was a huge chance that Miles would need a heart transplant in the next four to six months. The family made the decision to journey from the air base to the Heart Center at Children's Health in Dallas amid the pandemic.
"With COVID in general, it just makes us worry even more," said Javier. "They were also only allowing one parent at a time in the hospital. So going through this whole process was very tough."
Mariah and Javier sent Mateo to their hometown of El Paso so that family could care for him during what they knew would be a challenging summer.
"They did more than we could ask for, and made the experience a little easier," says Mariah.
"I was feeling overwhelmed because I just finished having a baby. I was still trying to collect myself and balance Mateo, trying to get him used to a baby," said Mariah.
Dr. Ryan Davies, Children's Health pediatric heart transplant surgeon and UT Southwestern associate professor, said half the children with Miles' condition don't survive without a heart transplant.
"The whole transplant process relies on that gift of life from donor families," he said.
Miles was put on the transplant list. Just about a week later, a miracle happened. A new heart instantly became available, faster than the family ever expected.
"That's pretty short, shorter even than our average which is closer to a month for kids of his size," said Dr. Davies. "At Children's, we have relatively short waiting times. There's a variety of reasons...but some of it is really just a real commitment to find hearts for these children."
"We were surprised because we looked up the numbers and everybody says it takes a year to even two years to find a baby a heart," said Javier.
Miles became the 300th heart transplant at Children's Health. Just two weeks after his transplant, he was able to go home for his fifth month birthday.
"We're excited to be a part of helping him get back to his life," said Dr. Davies.
Today, Miles is recovering quickly. His parents say through all the tests, tubes and visits with doctors, he smiles through it all.
"Three days after surgery he was just back to normal like nothing happened," said Mariah. "He's a very happy, social baby. He made us strong because we didn't see him sad and hurting all the time."
And he's finally growing into his big, happy personality with a brand new heart.
"We're very grateful for that family. And I don't know where we would be without them," said Mariah. "Their child that has passed is continuing to live through Miles."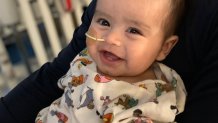 The family said they are thankful to Children's and all the doctors who helped save Miles' life. They also have a message for other parents caring for a sick child during uncertain times.
"Always pray and believe that everything is going to work out. Stay strong and know that miracles are coming. It's OK to cry and be weak sometimes," said Mariah. "Believe god's going to do his work. Just be patient."
The family is still staying at the Ronald McDonald House for the next several months as doctors continue to monitor Miles' progress.