There were more calls for action Wednesday night as protesters gathered on the steps of the Frank Crowley Courts Building in Dallas before marching through city streets in response to the sentence handed down to the former Dallas police officer convicted of murdering her unarmed neighbor.
Amber Guyger, arrested three days after the shooting death of Botham Jean and later fired, was convicted of murder Tuesday and sentenced Wednesday to serve 10 years in prison. The jury, which was largely made up of women and people of color, could have sentenced her to up to life in prison or as little as two years.
Guyger will be eligible for parole in five years, after serving half of her sentence.
Dozens of demonstrators marched through parts of downtown Dallas on Wednesday night in a protest organized by Next Generation Action Network, which says it is not satisfied with the sentencing.
At one point the group of demonstrators blocked the intersection of Riverfront and Commerce until Dallas police demanded they move. One woman was taken into custody after she appeared to disregard police orders.
They say this is all in response to the outcome of the sentencing phase of the trial, arguing that 10 years for Guyger simply isn't justice. People outside of the courtroom reacted angrily to the sentence, believing it was too lenient.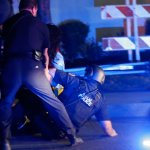 "Yesterday, I felt a hope that finally society was hearing black mother's cry. But then today, to me Amber Guyger got a time out," said rally attendee Dee Crane, whose son was Tavis Crane.
Local
The latest news from around North Texas.
Crane was shot to death by an Arlington Police officer in 2017.
"A murder conviction, that's great. It's almost unprecedented and it's a rarity in this country. But as far as the punishment, the punishment did not fit that action," said Charles Battles, a member of Next Generation Action Network.
The group has also called for the resignation of Dallas Police Association President Mike Mata. They claim he did not follow protocol in his treatment of Amber Guyger following the shooting.
The Jean family was not present during the rally and march.
But it was said during the rally protesters will not talk about Botham Jean's brother's grace with talking about his mother's call for reform.
Copyright A