Enrique Arochi's punishment is now in the hands of a judge, after he waived his right to have a jury choose his sentence.
The jury that convicted Arochi of kidnapping Christina Morris went home Tuesday morning after nearly three weeks spent on the case.
NBC 5 spoke with one of the jurors, who called it a serious responsibility and a hard and emotional process, but a responsibility he's convinced led to justice for Christina Morris.
"Twelve people working together is actually a very good thing," said William Newbill, known as 'Juror Number One' in the courtroom.
Newbill was one of 12 regular people who gave up three weeks to decide one very important question: What happened to Christina Morris?
"I'm absolutely convinced, I've never been more convinced in my life, that we got it right. But, that is still a very difficult process and one that you take extremely seriously," said Mr. Newbill.
He sat through more than 17 hours of deliberations with his fellow jurors, pouring over all the evidence they'd heard.
"We had a couple jurors who, I wouldn't say they held out, they were simply asking reasonable questions, trying to make sure that we got it right and at times things got emotional," said Newbill.
He said much of the evidence did appear circumstantial and he applauded the defense team's efforts but said in the end, it came down to Christina Morris' DNA found in the trunk of Arochi's car.
"The DNA evidence was very, very compelling," said Newbill.
Sitting in that courtroom day after day, the jurors got to know each other and got a sense for the people watching from the gallery, a family desperate for answers.
To Mr. Newbill, it was important to set emotion aside. Arochi was innocent until proven guilty.
"It is an awesome responsibility and you have somebody's life in your hands," said Newbill.
But with no sign of Christina Morris after two years, Newbill believes her life is over and though his part of justice is done, he won't forget.
"That's a very, very tragic thing," said Mr. Newbill.
Judge Mark Rusch will now decide Arochi's punishment after a sentencing hearing on Friday. He faces up to 99 years in prison for aggravated kidnapping.
Mr. Newbill believes Arochi chose that route because he thought, correctly, that the jury would have given him a harsher sentence than a judge will.
BREAKING: Judge in #EnriqueArochi announces Arochi waived punishment by jury. Judge will decide sentence for kidnapping charge @NBCDFW

— Katy Blakey (@KatyBlakeyNBC5) September 27, 2016
Morris was 23 when she was last seen on surveillance video walking with Arochi, now 26, through a parking garage at the Shops at Legacy in Plano early in the morning of Aug. 30, 2014.
Arochi Found Guilty of Kidnapping Christina Morris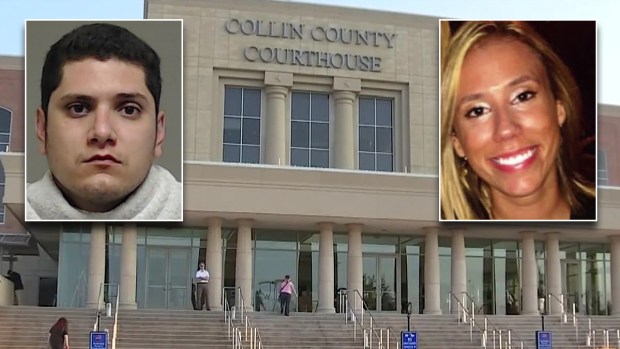 Her DNA was later found in the trunk of Arochi's car.
Morris' mother, Jonni McElroy, said she is forbidden from speaking with the media until after the punishment phase, but she pumped her fist as she left the courthouse last week.
The punishment phase was set to begin at 8:30 a.m. Monday, but was delayed because Judge Mark Rusch fell ill with a sinus and ear infection. He said the pain was so bad he couldn't put in his hearing aids and so couldn't hear anything happening in the courtroom.