The manhunt for the "dangerous" and "desperate" Florida prisoner who stabbed a detective and escaped in Grapevine while being transported to Nevada continues throughout North Texas for a fourth day.
Alberto Morales, is "a schizophrenic" who vowed not to return to prison, according to authorities and a 911 call released Wednesday.
Though law enforcement officials said Morales had been "appropriately restrained" during transport, Grapevine police told NBC 5 they do not think Morales is in shackles any longer and that he may have gotten out of the shackles somehow inside the SUV. Police have not located the shackles that were on Morales.
The 42-year-old Morales escaped Monday after using a piece from his eyeglasses to stab Miami-Dade Detective Jaime Pardinas, one of two officers transferring the prisoner by car to Nevada. The escape happened while they were stopped in a Wal-Mart parking lot in Grapevine.
Grapevine police spokesman Robert Eberling said authorities continue to search near the airport and will do so until they believe they should look elsewhere. He said the search covers "any place anybody can hide," including yards and drainage ditches.
Thursday afternoon officials from both Grapevine and Miami-Dade County urged people to continue to report individuals fitting the description of Morales, though all reports to date have not resulted in substantial leads, police said.
Grapevine-area Constable Tim Burch is assisting in the search for Morales. He told NBC 5 that the shackles used in prisoner transport are difficult to free oneself from.
"A transport belt, if used properly, in the many years I've been in law enforcement I haven't seen anybody get loose from one of them," Burch said.
Constable Burch, whose constable precinct 4 covers 400 square miles of Primarily Denton County as well as the Grapevine and Southlake areas, said Thursday that the last known sighting of Morales was by a construction crew who reported seeing a man matching Morales' description running in the area of the Kimball Avenue exit of 114 in Southlake, not far from the Grapevine Walmart where Morales escaped, shortly after Monday night's attack.
"It's not out of the question that he stayed on foot for quite some time that night," Burch said. "And no one really knows how far he made it."
Police are warning neighbors to watch out, describing Morales as a "dangerous" and "desperate" fugitive from the law.
"Make sure your garage door's shut, your doors are locked, you're secure and make sure your house is secure. If your cars are locked out on your driveway, if you happen to park them out there, your keys are where they are. You know where everything is. Just be aware of your surroundings," Lt. Todd Dearing of the Grapevine Police Department told NBC 5 on Wednesday.
"If you see someone that looks like him, please call us. Even if you're on that edge of, 'Is it or isn't it?' Call us. Let us go out and talk to the individual, because you never know when that one person's going to call in, and that's actually going to be him," said Dearing.
More detectives from Miami are expected to come to Dallas to help with the search that already involves the U.S. Marshal's Service, authorities at the U.S.-Mexico border and law enforcement officials from Miami and Nevada, Eberling said.
Miami police officials said they will remain in North Texas until Morales is caught.
Police initially thought Morales might be in a vehicle stolen Tuesday morning at a motel near the airport, but Eberling said Wednesday that's not the case. He said the vehicle has been recovered in Dallas and is not believed to be connected to the incident.
On Thursday Grapevine police released a photo of a distinct tattoo of a Native American on a horse that Morales has on his left arm. Below is the latest photo of Morales and the tattoo.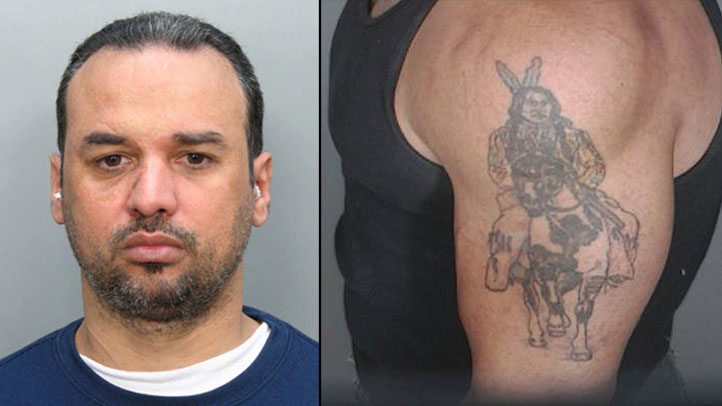 Investigators say it's possible Morales has gotten some help and escaped from the area. He's now on the state's Top 10 Most Wanted List and a reward of $10,000 has been issued for information that leads to his capture.
Officials: "He's not going back to prison"
Eberling said inmates who knew Morales in prison have told investigators that he had vowed not to return.
"He's made it pretty clear that he's not going back to prison," Eberling said.
On a recording of a 911 call released Wednesday, Pardinas can be heard breathing heavily as he tells the operator that he's been stabbed. He described Morales' height, weight and appearance and then added, "He's a schizophrenic."
On another 911 call, a bystander told the operator: "There's a guy with a gun and somebody on the floor bleeding." The caller than clarified that "the guy with the gun is helping the guy that's bleeding."
Pardinas was accompanied by Miami-Dade Detective David Carrero during the transfer. They flew to Houston with Morales and then decided to drive the rest of the way after he became disruptive on the flight. They had stopped near the Wal-Mart while waiting for a third officer who was flying in to the Dallas area join them. Department policy requires three officers to be present for ground transfers of prisoners.
Pardinas, 54, remained hospitalized in Dallas on Wednesday after undergoing surgery. He's "making progress" and expected recover, a Miami-Dade police spokesman said.
In a news conference at Parkland Hospital Wednesday, authorities said Pardinas was stabbed very deeply in the neck and back and that he suffered a collapsed lung. While his condition is improving, he is still listed in serious but stable condition.
Pardinas and Carrero were taking Morales to Nevada to serve a sentence of 30 years to life for a conviction of sexual assault with a weapon.
Officials said Morales fled wearing only one shoe and was wearing shorts at the time.
Previous Coverage:
Associated Press writers Danny Robbins and David Warren contributed to this report.
Published at 4:31 AM CST on Feb 14, 2013 | Updated at 12:18 AM CST on Feb 15, 2013