A 25-year-old flight instructor and her 22-year-old student pilot are dead after a fiery crash at the Gainesville Municipal Airport Sunday afternoon, officials say.
The twin-engine Piper PA-34 came down at about 4 p.m. Sunday as they prepared to land in Gainesville, a Federal Aviation Administration spokesman said.
The plane crashed about a quarter of a mile (440 yards) east of the runway and caught fire after impact.
The Texas Department of Public Safety confirmed that 22-year-old Chinese student pilot Yu Qui died at the scene. The second passenger, 25-year-old instructor Francesca Norris, of North Richland Hills, was taken to Parkland Memorial Hospital in Dallas where she later died.
Norris' father, a former Navy pilot currently flying for American Airlines, spoke with NBC 5 Monday about his daughter and said she loved to travel, was passionate about flying and was chasing her dream of becoming a commercial airline pilot like he and her brother.
Before becoming an instructor, Norris attended Baylor University on scholarship where she graduated pre-med in 2016. After Baylor, Norris taught English at a vocational school in Bangkok, Thailand, for a year, according to her profile on Linkedin, before starting as a flight instructor in November 2018.
Local
The latest news from around North Texas.
Norris' family and friends described her as "brilliant" and someone who was incredibly strong and full of passion.
"It's a tremendous loss. It's truly sad. She was just such a good -- she was a wonderful person and it's sad to have something like this happen," said Jeff Leisten, a family friend and American pilot.
Leisten said Norris was happy to be doing what she was doing, had found her place and was a good aviator.
"These things do happen and unfortunately this was just a horrible, horrible circumstance," Leisten said.
Norris' flight school, U.S. Aviation Academy, canceled flights Monday and released the following statement.
"All of our hearts are heavy as we collectively mourn our student and instructor. Our thoughts are with their families, friends and loved ones," said Justin Sykes, assistant CFO, U.S. Aviation Academy. "We are assisting with the National Transportation Safety Board, Federal Aviation Administration and local authorities as they investigate the accident.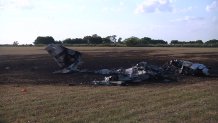 Sykes added the academy will be conducting their own internal investigation and that they'll provide grief counselors on campus throughout the week
"The grief we feel at this loss is immense," Sykes said.
The Denton-based academy created a memorial inside for students to write kind words about both victims. It plans to pass the messages along to family members.[[513358151,C]]
The cause of the crash has not yet been determined and it's not clear who was in control of the plane when it went down.
The National Transportation Safety Board will lead the investigation, the FAA spokesman said.
NBC 5's Vanessa Brown contributed to this report.
Copyright AP - Associated Press