The conjoined twins who were separated at Medical City Children's Hospital in Dallas in August continue to recover and grow but are still facing challenges that will require them to spend Christmas in the hospital.
"My Christmas wish is to have my family together. It's going to have to wait until a little after Christmas," said the boys' father David Ezell.
The family released a photo of the Owen and Emmett Ezell wearing Santa costumes. Owen is currently 16 lbs., while Emmett is 15 lbs.
Medical City Children's Hospital says the boys are alert, smiling and interacting with their family and Medical City staff.
"We're getting these rumblings that the boys are getting better and it's not long before we get to bring them home and you know, it's all worth it," said Ezell. "At this point we're as glad as we can be to have gone through it because now we're here."
It's a big change from July when they came into the world joined from the chest to the belly button. The twins were successfully separated on Aug. 24.
The boys have to pass three major medical hurdles to go home -- eating and breathing on their own, and fully healing from their surgical wounds.
Though they've made a lot of progress, doctors say their biggest challenge remains their ability to eat on their own, both boys still need to be fed by tubes.
"I got them the most important gift that they will get. I got them two little plastic footballs each. Got to get them with a throwing motion. Got to start them early," said Ezell.
Doctors say they're doing as well as expected.
"Aw, next Christmas is going to be bedlam. It's going to be madness with all those little ones running around," said Ezell. "It's going to be great though. Bedlam in a good way."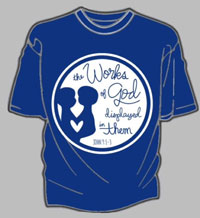 The family is chronicling the twins' progress, as well as setbacks, on The Ezell Twins blog.
On the blog the Ezell's are also selling T-shirts that read, "The Works of God Displayed in Them, John 9:1-3."
The funds donated go into a trust fund set up for Emmett and Owen and their direct care.
More: The Ezell Twins blog | The Ezell Twins T-Shirts
Published at 3:43 PM CST on Dec 24, 2013 | Updated at 11:42 PM CST on Dec 24, 2013