Dallas County Sheriff Marian Brown has until Wednesday to tell a Federal Judge what her jail is doing to guard inmates and employees against coronavirus.
That was the order Friday in a lawsuit filed by nine inmates against the Sheriff and Dallas County with help from several civil rights groups.
The inmates fear they'll become victims of the COVID-19 outbreak because, while locked up, they cannot physically distance themselves from other people and have little access to soap and face masks, the lawsuit says.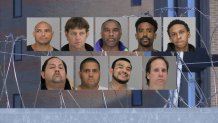 As of Friday morning, there were 31 people had confirmed cases of COVID-19 from the Dallas County Jail, 7 of the employees.
The lawsuit seeks a temporary restraining order and immediate release of medically vulnerable inmates, or those with underlying health conditions.
For remaining inmates, the lawsuit seeks better safety protocols including physical distancing and access to supplies, such as soap and face masks.
Local
The latest news from around North Texas.
On Friday, US District Court Judge Ada Brown set a 5 p.m. April 15 deadline for the Sheriff to provide information about steps being taken to protect people, along with alternatives to incarceration including leg monitors.
A hearing is set in the case on Tuesday, April 21 at 10 a.m.
The Next Generation Action Network (NGAN) and the American Civil Liberties Union are listed as parties in the lawsuit.
In a statement, NGAN said, "the Dallas County Jail is not equipped to manage and contain a highly communicable respiratory virus among a population of over 5,000 detainees" and that "the outbreak of COVID-19 in the Dallas County Jail is creating a public health crisis not just for detainees and jail staff, but for the community at large."
NGAN President Dominique Alexander has been a Dallas County Jail detainee himself. He said traditional jail operations no longer apply.
"We can not use the same set of jail standards that comply with the regular days that we all are used to. We are living in a different time and we all must adapt, just like we have adapted here, shelter in place orders and different things of that nature."
When coronavirus was first detected at the jail, Sheriff Brown held a March 25th news conference. She said her agency already had plans in place to manage the situation.
This week, NBC 5 obtained an internal sheriff's department email that instructed detention officers to re-use masks because personal protective equipment (PPE) is in short supply.
The Democratic Sheriff's November election opponent, Republican Chad Prda, is a former deputy with 16 years at the department. He disputes claims he has heard from management about face masks.
"They are stating that they have plenty. Several of the officers have reached out to me to see if we can help because they don't have them," Prda said. "They can take COVID-19 home to their families, which is the main concern that a lot of officers have."
Last month, Sheriff Brown urged police departments in Dallas County to stop arresting low-level offenders in order to keep the jail's population down.
The Dallas County Sheriff's Department declined to comment about the lawsuit on Friday.