We're taking a closer look at drowning disparities in minority children. Studies show African American and Hispanic children are at higher risk for drowning.
In fact, data shows African American children ages 5 to 14 are three times more likely to drown than their white peers.
NBC 5's Alanna Quillen sat down with Cheryl McCarver, executive director of the Arlington-Mansfield YMCA to talk about the reasons why and their mission to bring vital swim lessons straight to families in need. Click the player below to watch the full conversation.
Drowning Disparities
McCarver said the disparities in drowning are based on a number of things, including affordability, accessibility and fear.
"My own story, I have five children. And when they were young, I couldn't afford swim lessons until I went to a YMCA and got a scholarship. So money is an issue," she said. "The average cost of swim lessons is anywhere from $60-$100. Depending on where you go, can you afford to go?"
Joyce Clark of Arlington didn't want her own great-grandkids, Kaleb and Malik, to become part of the statistic.
"They were not afraid of the water and I think that was part of the problem," she said.
But one day, she nearly witnessed a tragedy.
"One of the kids was in the lazy river and it was a little bit too deep so he couldn't keep his head above the water and just started to panic," she recalled. "It was terrifying, these are my great-grandchildren. There's nothing more important."
She quickly enrolled them in swim lessons through the YMCA and now, they're stronger swimmers.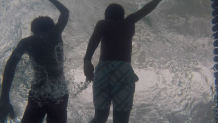 "This is some thing that will serve them for their entire lives," she said.
But it's not just kids. Suzana Delgado-Gray, district executive director of the Grand Prairie Family YMCA is seeing a problem with adults, too.
"In the Grand Prairie community, we have a lot of Latinos and African-Americans in our community and when they come to sign up for swim lessons, I always ask the mom or the dad -- do you know how to swim? And about 75% of the time, they don't know how to swim," she said.
As a Latina, Delgado-Gray has her own story that families can relate to. When she was 11 years old, she was thrown into the pool by her older brother.
"It was that moment where the fear kind of started with the water because someone had to come in and rescue me," she recalled. "I was 11 years old when that fear was birthed. It was scary to be under the shower and when water hit my face, it was creating anxiety. Ever since then, I've always avoided going into the deep end of the pool."
Drowning Prevention: NBC 5's Swim Week
Even when she had children, she was too anxious to drive them to their swim lessons herself. And by her 40s, she still hadn't learned how to swim.
She finally signed up for lessons at age 46 once she became a leader within the YMCA.
"So at 46 years old I was learning how to blow my bubbles, kick my feet, move my arms," she said. "Now if I were to fall into a body of water, I would know how to save myself."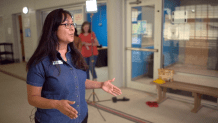 She said she shares her experience with other minority families in hopes of inspiring them.
"I think many of them feel the hope behind that. Because they think gosh, if she can do it, I can do it," she said.
She even offers to help pay for lessons if families are still struggling to take the plunge for water safety.
"I can remove or eliminate the cost barrier, I can't eliminate the fear. So it has to be their decision," Delgado-Gray said.
Safety Around Water
YMCA research shows many times, children are left unsupervised in apartment complexes around swimming pools. And research shows that there's a high population of immigrant, African American, and Hispanic families in Dallas-Fort Worth living in these complexes with children who don't know how to swim.
This is where the Safety Around Water program comes into play. YMCA staff is brought directly to apartment community pools to actively engage with and teach children how to swim.
Arlington Police and local schools like T.A. Howard Middle School to identify apartment complexes to work with.
"Our goal is to reach as many as we can and bring awareness around safety to as many as we can," said McCarver. "And I'd love to shout out the Arlington Police Department, they have been fabulous in helping us get in front of apartment complex managers."
The training is geared toward water survival in case a child falls into water and panics.
"We're not teaching strokes. They're learning how to float, glide toward the edge of the pool, flip over on their back and float to get their breath. Then roll over and glide to the edge until they get to safety," described McCarver. "That's not a stroke, that's just being comfortable and relaxed in the pool. I see the edge and I know how to get there."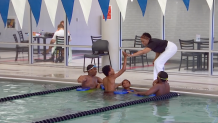 Staff teach students how to perform a sequenced set of skills over eight lessons, each lasting about 40 minutes. With formal lessons, the risk of drowning is reduced by 88 percent for children.
A typical session includes:
Exercises to help kids adjust to being in water.
Instruction in "Jump, Push, Turn, Grab" and "Swim, Float, Swim," two skill sets kids can use if they unexpectedly find themselves in the water.
Specific safety topics, like what to do if you see someone in the water who needs help.
Fun activities that reinforce skills.
They also teach parents important supervision guidelines and routines to follow every time they bring their child near a body of water.
"Generally our kids drown when families aren't prepared to swim. They just happen to say, 'Oh, let's go swimming' and they head out. There's no plan about it. Who's going to watch the kids and put the phone down? And not go for drinks? Who is not going to be eating? We do that just trying to get them to stay focused," McCarver said. "I believe our kids are drowning because were distracted. And no one's watching while they're swimming."
Cook Children's Hospital plays a big role in this part. Their Lifeguard Your Child program provides free resources like 'Water Watcher' tags and wristbands for parents to wear while their kids are swimming in pools. They also offer bathtub pads for parents with babies to use during bath time, when drowning can actually happen in as little as one inch of water.
Parents are also asked to sign a water safety pledge to help prevent drownings.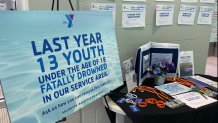 "We appreciate all of the resources provided to us by Cook Children's to make sure we can entice and encourage people to learn and have assets to make it easier," she said.
This year, the Arlington program is hoping to expand to more locations. McCarver said they even received a grant to cover lessons for 100 more kids this summer.
"Here at The Y, we make sure that no one is turned away. So we have an annual support campaign where we raise those funds to help subsidize the cost," she said.
If you would like to learn more about the Safety Around Water program, click here or call 817-419-9629. Check with your local or closest YMCA to see what programs are available to you.