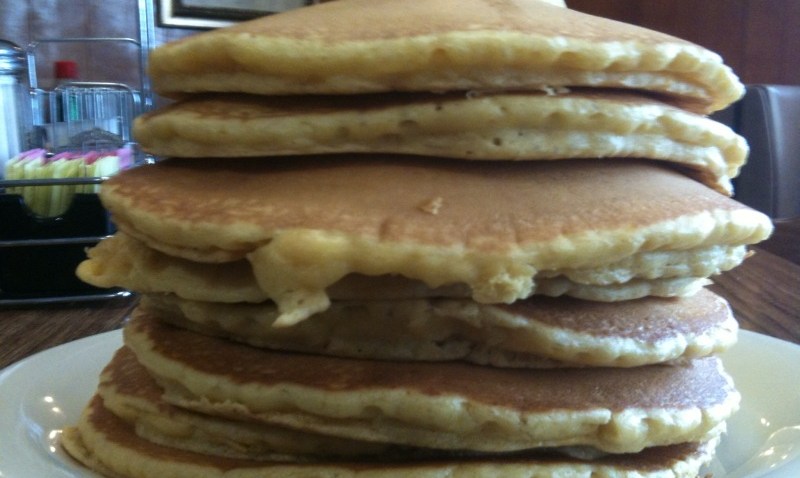 For nearly fifty years, regulars and passersby have started their day off with breakfast at Ol' South Pancake House. It's somewhat of a Fort Worth institution, with black and white photos on the walls that remind of a time when it wasn't unusual for diners to pray in public.
Its simple interior has served as the backdrop for movie scenes and families have happily passed through its wooden doors generation after generation.
Breakfast is served off a menu that offers choices such as the well-known German pancake (snag the recipe here), made exactly the same way since 1962.
"It's like a crepe with powdered sugar, lemon and butter … very rich, but very good," said Ol' South regular Lady Walker, who has eaten Ol' South's German pancakes for many years.
Co-owner Rex Benson is all about "keeping the nostalgia" at Ol' South. Other than the computer systems and some kitchen equipment, the interior and even the hours haven't changed since the restaurant opened its doors.
"We're like doctors on call -- 24 hours a day, seven days a week, 365 days a year," said Benson.
That said, there's one new promotion that challenges diners to partake in a bit of fun food competition. Anyone who takes a fork to Ol' South's mega pancake challenge -- eating a eight-stack of plate-sized buttermilk pancakes in less than an hour -- wins a t-shirt and will have their photo posted on the wall.
Benson told NBCDFW.com that 170 have tried, but only one has prevailed at completing the challenge.
"The winner ended up eating it all in twenty-eight minutes, and he weighed maybe 180 pounds. It was a phenomenon," said Benson.
If hoovering an eight-stack of carb-laden flapjacks doesn't sound appealing, there are plenty of savory options at Ol' South: breakfast tacos, Greek omelets, T-bone steak and eggs, pork chop and eggs, corned beef hash, breakfast burritos and huevos rancheros just to name a few.
Anyone is welcome at Ol' South. Don't act surprised if you see a few customers milling about in their pajamas.
It's just another indication of the supreme comfort level guests enjoy at Ol' South.
Ol' South Pancake House
1509 S. University
Fort Worth, Texas 76107
817-336-0311