Ian Derrer's life has a funny way of coming full circle in Dallas. The Southern Methodist University graduate who interned at the Dallas Opera and later served as its artistic administrator from 2014 to 2016 became the opera company's General Director and CEO in July. "I really got to know the company in a way that I had a lot of admiration not only for the staff, but for the product they produced," Derrer said.
Growing up in Charlotte, North Carolina, Derrer watched his parents sing in the chorus of Opera Carolina, learning about the day-to-day life of a singer and immersing himself in his father's extensive collection of opera recordings.
At SMU, he studied with Thomas Hayward, the esteemed tenor who enjoyed a significant career at the Metropolitan Opera. "He's still somebody I often imitate and have many great memories of his funny and pragmatic style and that has given me a lot of points of connection to various singers throughout the years," Derrer said.
A career in arts administration evolved gradually for this 1996 voice performance graduate. "It developed rather naturally, I think. It was never something I set out to be, an arts administrator. Things just kept happening to unfold in a way that put me on that path," Derrer said. Acting as an assistant to legendary British stage director John Copley for Richard Strauss' Elektra during his internship at The Dallas Opera piqued his interest in stage management and direction.
After graduation, he freelanced, working as an assistant director and stage manager at Santa Fe Opera, Atlanta Opera, Opera Carolina, Opera Pacific and Washington National Opera. Eventually, he pursued his master's degree in opera production and performing arts management from Northwestern University and Brooklyn College and took on his first administrative job as rehearsal and music coordinator at New York City Opera. Derrer's perspective on opera changed. "At that point, things just really began to unfold as I was learning that opera was something that I liked in the big picture much more than one entity of it,' Derrer said.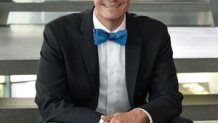 Derrer became the rehearsal administrator at Lyric Opera of Chicago. During his eight years at Lyric Opera, he rose to become Director of Production and Head of the Rehearsal Department, counting Nicholas Ivor Martin, the company's Vice President of Artistic Operations and Labor Strategy, and the company's former and current general directors, William Mason and Anthony Freud, as mentors. In 2016, he became the general director of Kentucky Opera.
Appointed to his current position at The Dallas Opera four months after the departure of Keith Cerny, Derrer is focused on maintaining the company's stature within the opera community. "We have an incredible tradition of American debuts that have happened here. We are now well-renowned in the industry with the Hart Institute for Women Conductors," Derrer said. "To me, it's a balance of carrying on the traditions we've established and remaining an integral part of innovative developments in the field."
With the Dallas Symphony Orchestra's recently announced "Women in Classical Music" initiative, Derrer recognizes the significance of The Dallas Opera's Hart Institute for Women Conductors. "I think the big theme there is that we have hit on something that is an important topic," Derrer said. "We are listening to the palpitations of the world and that is certainly something we will continue to do, and I think it is incredibly exciting the DSO is launching that initiative as well."
While the 2018-2019 season was announced before Derrer was appointed to his new job, he recognizes some familiar faces among this season's singers. "When I was here as artistic administrator, I was helping develop some of the casts. Though not solely my work in any shape or form, a lot of the work I was doing as artistic administrator is on the stage this coming season. I'm particularly proud of that," Derrer said.
Beyond the upcoming season, Derrer is excited to work with Emmanuel Villaume, The Dallas Opera's Music Director and someone Derrer has known and admired for years, on maintaining the company's artistic standards. "I think we have to continue to grow on these things that have made us renowned not only in our area, but also throughout the nation and the world," Derrer said. "I want to make sure we are always striving for the best and striving to improve."
MORE: DallasOpera.org
Copyright FREEL - NBC Local Media