Brittney Johnson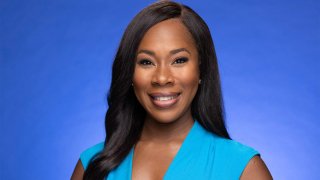 Brittney Johnson is a reporter and co-anchor of NBC 5 News at 10 p.m. Monday through Friday.
Brittney was born in Dallas and spent part of her childhood in Little Rock, Arkansas before her family settled in Charlotte, North Carolina. She is excited about connecting with viewers across DFW after spending more than a decade reporting across the Carolinas, Arkansas, and Louisiana.
She joined NBC DFW in September 2021 after spending more than six years in Charlotte. During her time in the Queen City, Brittney anchored the morning newscasts and delivered in-depth and investigative stories on the affordable housing crisis, mental health, and the foster care system.
E-mail Brittney| Follow Brittney on Twitter | Like Brittney on Facebook | Find Brittney on Instagram
Before Charlotte, Brittney chased storms and stories as an anchor and reporter in Little Rock and Monroe, Louisiana. She is a proud graduate of Howard University and the University of California at Berkeley's Graduate School of Journalism.
Brittney's work has garnered several Emmy nominations and recognition from the Associated Press. She was also named 2019 Anchor of the Year by the North Carolina Association of Broadcasters (NCAB) and Anchor Team of the Year for 2019 and 2020 by the Radio Television Digital News Association of the Carolinas (RTDNAC).
Brittney is a fitness enthusiast and enjoys yoga, running, and indoor cycling. She also enjoys mentoring and serving the community as a member of Alpha Kappa Alpha Sorority Inc. and the National Association of Black Journalists.