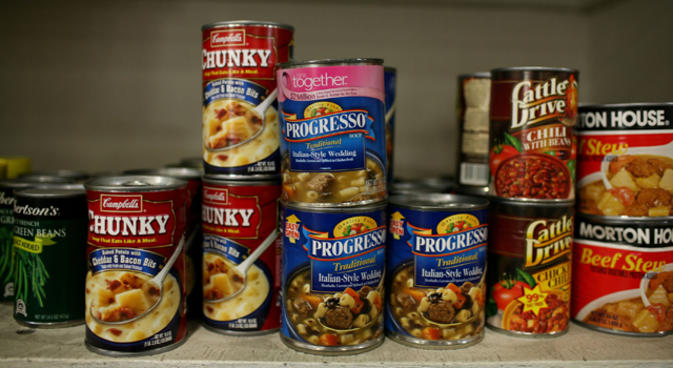 NBC 5 and Telemundo 39 are committed to fighting hunger in North Texas. If you are in need of assistance, would like to volunteer, or make a donation, please click on this article and contact any of the agencies listed.
A Christian Food Pantry and Thrift Store
Serves quality food, free of charge, to anyone who needs emergency food assistance.
1116 Dobie Drive
Plano, Texas 75074
(972) 578-5730
acfoodpantry.org
Allen Community Outreach
Serves persons in Allen and the surrounding communities in Collin County by providing free, comprehensive human services to help avoid hunger and homelessness and gain financial security.
801 E. Main Street
Allen, Texas 75002
(972) 727-9131
www.acocares.org

Community
Connecting NBC 5 to the community we serve.
Amazing Grace Food Pantry
Serves all of Collin County with an open-door policy.
1711 Parker Road
Wylie, Texas 75098
(972) 292-7241
www.amazinggracepantry.org
CitySquare
CitySquare's Food Pantry is now distributing pre-packaged groceries and nutritious meals.
1610 S. Malcom X Blvd.
Dallas, Texas 75226
(214) 823-8710
www.citysquare.org
Community Food Bank
The mission is to fight hunger and poverty with food, education, programs, and resources to families in a dignified, personal, and timely manner without zip code restrictions.
3000 Galvez Avenue
Fort Worth, Texas 76111
(817) 924-33331
www.food-bank.org
Community Food Pantry of McKinney
A nonprofit outreach program that provides food to families who have found themselves in crisis.
307 Smith Street
McKinney, TX 75069
(972) 547-4404
www.community-foodpantry.org
Crossroads Community Services
Serves Dallas County by nourishing their community's low-income families and individuals with nutritious food and supportive education.
4500 S. Cockrell Hill Road
Dallas, TX 75236
(214) 560-2511
ccsdallas.org
Denton Community Food Center
Provides food from a central community storehouse to needy families and individuals struggling with hunger insecurity.
109 W Sycamore Street
Denton, TX 76201, USA
(940) 382-0807
www.dentoncfc.org
Frisco Family Services Food Pantry
Frisco's only community food pantry allows clients to shop in a grocery store-like setting for food at no cost.
9085 Dogwood Street
Frisco, Texas 75033
(972) 335-9495
friscofamilyservices.org
GRACE Food Pantry and Medical Clinic
GRACE's Client Choice Food Pantry uses a voucher system for GRACE clients to shop and select food items that meet the cultural and dietary needs of their households. The GRACE Community Clinic is a Medical Home for uninsured families that do not have access to traditional health care.
837 E Walnut Street
Grapevine, TX 76051
(817) 488-7009
www.gracegrapevine.org
Little Elm Area Food Bank
Provides emergency food aid from the shelves of their food pantry.
501 Bill Street
Little Elm, TX 75068
(972) 294-4061
www.leafb.org
Meals on Wheels, Inc. of Tarrant County
Promotes the dignity and independence of older adults, persons with disabilities, and other homebound persons by delivering nutritious meals and providing or coordinating needed services.
5740 Airport Freeway
Fort Worth, Texas 76117-6005
(817) 336-0912
mealsonwheels.org
Minnie's Food Pantry
Provides healthy meals, educational resources and numerous programs that help families gain long-term food security.
661 18th Street
Plano, Texas 75074
(972) 596-0253
minniesfoodpantry.org
NTX Community Food Pantry
Serves The Colony, SE Denton County and surrounding areas providing over 450 families each month who experience food insecurity.
5201 South Colony Blvd, Suite 650
The Colony, TX 75056
(469)514-9065
www.ntxcfp.org
North Texas Food Bank
Provides access to nutritious food to close the hunger gap in an effort to create a hunger-free, healthy North Texas.
3677 Mapleshade Lane
Plano Texas 75075
(214) 330-1396
www.ntfb.org
Pleasant Grove Food Pantry
Provides food and other necessities to qualified residents of Pleasant Grove and the surrounding areas.
331 Baywood Street
Dallas, TX 75217
(214) 505-1928
www.pleasantgrovefoodpantry.org
Storehouse of Collin County
Seven Loaves Food Pantry
Serves families within Collin County and surrounding communities by providing food through Seven Loaves Food Pantry.
1401 Mira Vista Boulevard
Plano, Texas 75093
(469) 385-1813
www.thestorehousecc.org/seven-loaves-food-pantry
Tarrant Area Food Bank
Empowers communities to eliminate hunger by providing food, education and resources through innovation and collaboration.
2600 Cullen Street
Fort Worth, TX 76107
(817) 857-7100
tafb.org
VNA Meals on Wheels
Delivers nutritious, freshly prepared hot meals to Dallas County residents who are homebound and unable to access resources like food banks and grocery stores.
1440 W Mockingbird Ln.
Dallas, TX 75247
(214) 689-2639
www.vnatexas.org
www.vnatexas.org/i-need-help/meals-on-wheels