Homeowner's Surveillance Video Captures Thief in Action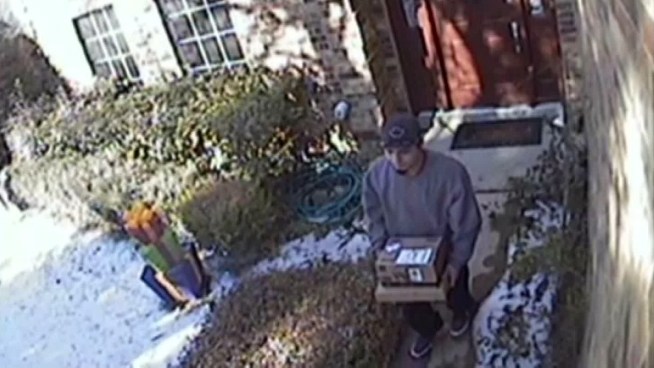 Eric King, NBC 5 News
The man in the surveillance video was seen taking boxes from a home in Fort Worth on Thursday.
A Keller homeowner's surveillance video caught a thief in the act, stealing packages from his doorstep last week.
At about 2 p.m. on Dec. 12, Rob Sterba's surveillance cameras caught a thief walking away with his Post Office deliveries.
"You actually see the guy come walking right up the path and he looks over at the packages, walks over, bends down, picks them up, turns around and walks right back off with a grin on his face," said Sterba.
The theft took only about seven seconds and he thief didn't notice the surveillance camera pointed directly at him.
"[He] Doesn't seem to be concerned about anybody watching, doesn't look around to see if anyone was looking, just kinda walked up like he owned the place and walked right out" said Sterba.
Sterba says luckily he only got away with vitamins and Christmas sweaters he'd ordered for a female family member.
Sterba says he doesn't recognize the man and thinks he was just someone driving through the neighborhood who saw the packages and took them.
"To think we have to watch our packages, especially when we're only gone for an hour and they get dropped off, it's kinda scary," said Sterba.
Sterba filed a report with the Fort Worth Police Department and posted the man's photo in his neighborhood, but so far no arrests have been made.