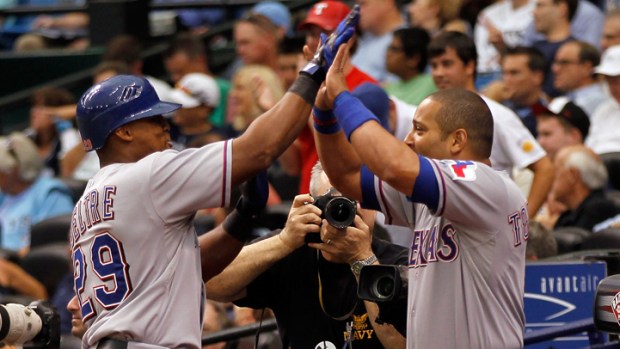 Getty Images
Adrian Beltre of the Texas Rangers celebrates with teammate Yorvit Torrealba after Beltre hits a fourth inning solo home run off pitcher Jeremy Hellickson of the Tampa Bay Rays in Game Four of the American League Division Series at Tropicana Field on October 4, 2011 in St Petersburg, Florida.
As part of a season-ending series, we'll take a look at the 13 most memorable moments from the 2011 Texas Rangers season.
No. 8
When: Oct. 4
What: The Rangers didn't want to go back to Arlington for a decisive Game 5 of the ALDS when they would have had to most likely face James Shields. And Jeremy Hellickson, who would later earn AL Rookie of the Year honors, was on the hill for Game 4 in Tampa. Ian Kinsler got things started on the right foot when he led the game off with a solo blast to left field off "Hell Boy", but other than that no Rangers batter was able to have much success. No other Rangers batter besides Adrian Beltre, that is. Beltre had a historic game, becoming the fourth player in history to hit three home runs in one postseason game, joining the likes of Babe Ruth and Reggie Jackson, when he touched up Hellickson for two blasts in the second and fourth innings, and then Matt Moore, who stymied the Rangers bats in Game 1, in the seventh inning to propel the Rangers to a 4-3 win and their second straight ALDS championship.
Up next: Napoli sends Rangers home