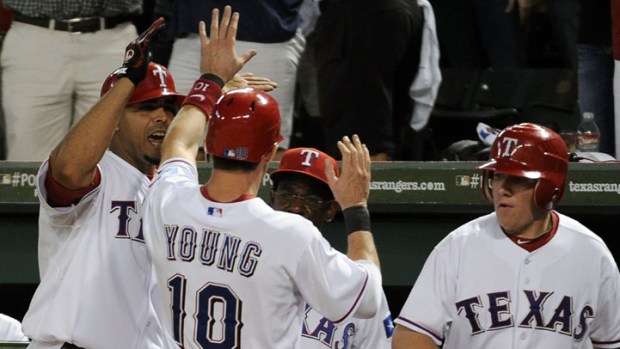 Getty Images
Michael Young celebrates with Nelson Cruz and Ron Washington after scoring to take a 3-2 lead in the third inning.
As part of a season-ending series, we'll take a look at the 13 most memorable moments from the 2011 Texas Rangers season.
No. 9
When: Oct. 15
What: One of the "bad" Derek Holland starts got the Rangers into a quick hole in Game 6 of the ALCS when he gave up two solo home runs to put the Rangers in a 2-0 hole after two innings. That looked ominous with Max Scherzer on the hill for the Tigers, who had pitched well in Game 2 against the Rangers. But then came the bottom of the third inning. The Rangers batted around in the inning and plated nine runs in the frame to pace the Rangers to a 15-5 runaway victory and their second straight AL pennant. It was truly a team effort as everyone in the lineup scored except for the Craig Gentry/Endy Chavez center field platoon, everyone had a hit except Chavez (just one at-bat) and everyone had at least one RBI except for Chavez, Mike Napoli and Elvis Andrus. Nelson Cruz even extended his historic series with a two-run home run, giving him six in the series, a postseason record. The win was highlighted by Michael Young's huge game, which unfortunately was one of his only such postseason moments, as he went 3-for-6 with five RBIs.
Up next: Adrian Beltre powers Rangers to ALCS