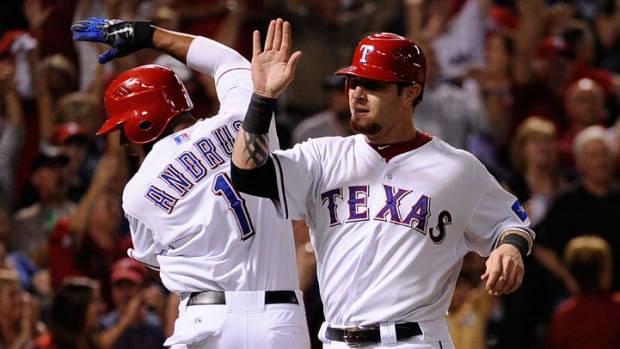 Getty Images
Josh Hamilton and Elvis Andrus celebrate after scoring in the third inning to tie Game 6.
As part of a season-ending series, we'll take a look at the 13 most memorable moments from the 2011 Texas Rangers season.
No. 13
When: Aug. 5
What: The Rangers got a two-run home run with two outs in the bottom of the ninth to take the Cleveland Indians to extra innings, and two innings later Elvis Andrus scored from second base on an infield single from Josh Hamilton to send Rangers fans home happy. Andrus was on second base with two outs only after he laid down a perfect two-out bunt single, then advanced to second on a wild pitch. Then, Hamilton hit a soft roller to shortstop, which got Andrus to third. But Andrus didn't stop there. As the throw to first was just late getting Hamilton, who dove head first into first base, Andrus kept trucking around third and slid into home to beat Matt LaPorta's throw home amidst a huge cloud of dust. The win kicked off an 11-2 stretch for the Rangers, and came on a night when the Angels had already beaten Seattle to pull within a half-game of the Rangers pending the result. The stretch saw the Rangers' lead in the AL West go from just 1 game on Aug. 5 to 7 games on Aug. 17.
Up next: An important night for Josh Hamilton