A cold front moved through North Texas after sunset generating showers and thunderstorms bringing heavy rain, wind and hail.
Severe thunderstorm warnings were issued along the line of storms and much of the North Texas area was under a Severe Thunderstorm Watch until 1 a.m.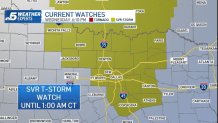 Small hail was reported in several areas.
Your Storm Photos – Nov. 10, 2021
Timing for Dallas Fort-Worth will range from 8 p.m. to midnight.
The main threat will be damaging winds up to 65 mph and hail up to golf ball-sized. A low tornado risk will be possible through 10 p.m. mainly near the Red River.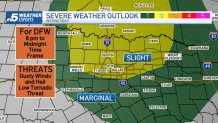 Behind the front, overnight lows will fall into the 40s and 50s with clearing skies from west to east. Expect brisk, dry and cooler conditions on Thursday. Winds will be out of the north 10 to 15 mph with a few gusts up to, or in excess of 20 mph.
The rest of the week will be sunny and pleasant with afternoon highs in the mid to upper 60s.