A line of severe thunderstorms marched across North Texas overnight, bringing the threat of baseball-sized hail and wind gusts of 75 mph or more.
Storms developed in Oklahoma along this front and dove into North Texas after sunset. The storms started to impact Dallas-Fort Worth around 10 p.m.
NBC 5's Allie Spillyards captured video of heavy rain and gusty winds just before 11 p.m. in Collin County.
The National Weather Service Storm Prediction Center had most of North Texas highlighted in the "moderate" category. This means that severe storms were expected to be numerous.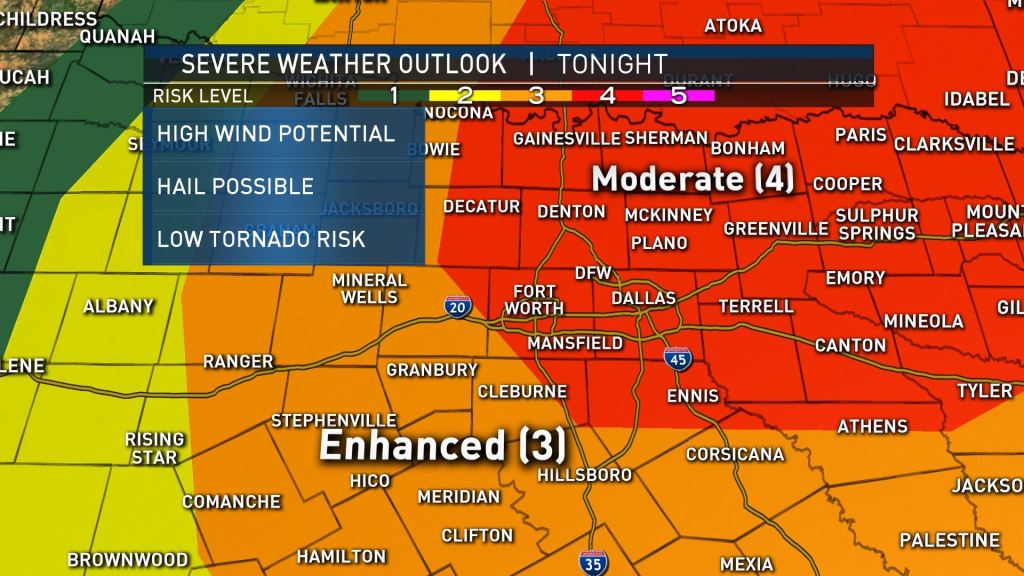 Earlier Tuesday, a severe thunderstorm prompted warnings for Tarrant, Dallas, Ellis and Navarro counties. NBC 5 viewers across the region submitted pictures and videos of large hail -- some hailstones larger than golf balls -- and lightning as the storms rolled across the region.
Photos: Live Coverage: Severe Storms Bring Large Hail Overnight; More Storms Forecast
See the latest weather forecast from NBC 5's team of Weather Experts below.