A tunnel or an overhead bypass highway are among the options state transportation officials unveiled Monday for a busy section of Loop 12 Northwest Highway in North Dallas.
The roadway between Inwood Road and Hillcrest Avenue is the focus of the improvement plans.
"We are really looking for feedback from the public on this to use as a basis for what the preferred alternative will be," said TX DOT Spokesperson Laura Weaver.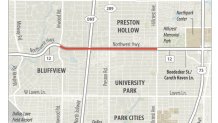 The North Central Texas Council of Governments worked with neighbors for several years on traffic improvement options. An underground ramp to a proposed Preston Center parking garage was one possibility.
But the options released Monday for the entire stretch included a much longer tunnel and an elevated roadway that would bypass Preston Center and the Dallas North Tollway interchange to help speed through traffic in the area.
Truck driver Ronny Gamble said the road needs traffic improvement.
Traffic
Covering traffic news that could affect your commute.
"I'd be happy with either one of them. Anything to get quicker to your next account and take care of your customers," he said.
Residents of the area were not as pleased with those big suggestions.
"I think to do a double decker highway right here is too much for this neighborhood and it would be super noisy. So if your going to do anything, I would do the underground thing," resident Patty Bernstein said.
Resident Kimber Nistzak crossed Northwest Highway with her baby stroller to pick up a prescription at the pharmacy near Hillcrest Tuesday.
"It doesn't always feel safe crossing the highway," she said.
Nitszak said tunnel construction would be a nuisance and the elevated highway an eyesore.
"I just don't like that double-decker, I wouldn't want to step out in my back yard and see a double-decker highway," she said.
Two political leaders from the area have differing opinions.
Dallas City Council member Jennifer Staubach Gates, who represents the surrounding area, said she is opposed to both the tunnel and the elevated roadway but supports some of the less expensive options like reconfiguring lanes and barriers.
"I think that's where the focus needs to be at this time," Gates said.
Former Dallas Mayor Laura Miller, who unsuccessfully challenged Gates in the 2019 election, said the tunnel was a suggestion in the Northwest Highway and Preston Road area plan that she participated in years ago.
"The tunnel is a great idea. But super expensive. Glad they're still talking about it," Miller said in a text message Tuesday.
Several less intrusive options are also in the plans released by the state Monday evening. No prices or source of funding has been identified.
"We are very early in this study so we're talking broadly about concepts that would work as a preferred alternative. So in terms of specifics, that level of detail has not been discovered," Weaver said.
TxDOT is taking public comments on a feasibility study through Dec. 22.
The virtual meeting presentation remains available for viewing until Dec. 22 at 11:59 p.m. To log onto the meeting and contact information, click here.
Interested parties may also call 214-320-4469 between the hours of 8 a.m. and 5 p.m., Monday through Friday, to ask questions and access project materials during the project development period.
Written comments from the public regarding the proposed project may be submitted to stephen.endres@txdot.gov or by mail to the address below.

TxDOT Dallas District Office
Attention: Stephen Endres, P.E.
4777 East US Highway 80
Mesquite, TX 75150
Verbal comments will be accepted by calling 833-933-0437 and leaving a voicemail.
All comments must be received on or before Dec. 22.