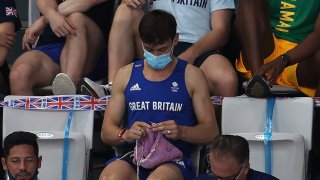 Tom Daley isn't only winning at diving. It turns out the Olympics champion is also into crafts.
The 27-year-old athlete went viral after he was spotted knitting at the 2020 Tokyo Olympics during the women's 3m springboard diving final on Sunday, Aug. 1.
The diver was masked up and wearing Great Britain gear while knitting a pink-and-blue garment. He simultaneously showed his support for fellow competitors while also remaining focused on his favorite activity for relaxation.
Fans expressed all over social media how much they great Daley was for working on his craft. "Omg he's precious," one supporter said on Twitter. Another fan wrote, "This is so relatable, showing off new pandemic-era hobbies. Congratulations to you!"
The sports star recently took to Instagram to discuss his love for knitting by showing off another creation he made. Hint: It was an accessory for the new gold medal he won on Monday, July 26 for the men's synchronized 10m.
2020 Tokyo Olympics Candid Photos
"The one thing that has kept me, like, sane throughout this whole process is my love for knitting and crocheting and all things stitching," the British diver explained in the short clip the next day. "So I want to say thank you to all my followers on here for actually following along."
He then showed his followers the adorable handmade pouch he made for his gold medal. In fact, Daley explained that the accessory is a perfect way for his prized possession to stay in pristine condition.
"I've got Union Jack on one side, and the Japanese flag on the other," he said in the video. "It all tucks in nicely to have a little pouch for me to carry around my medal without it getting scratched. How about that?"
Apparently, Daley doesn't only treat himself to gifts, as his Olympics partner, Matty Lee, revealed he received a special present from his teammate.
"He surprised me with this Olympic ring, which is something really cool and special because it's the exact same mold of his ring that he got years and years ago after his first Olympics," Lee shared with Olympics.com on July 27. "So regardless of how we did, he still had a little surprise he brought from England. It's so, so special that he got me that."
Copyright E! Online