After a year-long delay, the Tokyo Olympics are here. 14 North Texans will represent the United States at the games -- a quick look at each athlete is below.
Allisha Gray, Basketball 3x3
The Dallas Wings guard, raised in Georgia, is playing in the newly introduced 3-on-3 basketball format in the 2021 Tokyo Olympics.
Allisha Gray, 26, was born Jan. 12, 1995, in Greenwood, S.C. She played college basketball at North Carolina from 2013-2015 before transferring to South Carolina (2016-2017). It was there in 2017 where she, as a member of the Game Cocks, won the NCAA Women's Tournament with a 67-55 win over Mississippi State at American Airlines Center in Dallas.
She entered the WNBA Draft in 2017 and was selected fourth overall by the Dallas Wings. She was named Rookie of the Month in May and June; she was also named WNBA Rookie of the Year that same season.
During an interview with NBC 5 after being named to the Olympic team, Gray said playing on the world's stage is the culmination of a lifelong dream.
"I'm very excited. The Olympics for most people is a once in a lifetime opportunity," Gray said. "As a young girl growing up, you see the Olympics on TV and you see the gold medals and then you say to yourself, 'yeah man, one day I want to be able to compete,'" Gray said. "I'm really from a small town. Sandersville, Georgia, is where I'm from. [Making the team] shows that even from a small town you can still get out if you remain focused on your goals and don't let any distractions stop you from achieving that goal."
The Tokyo Olympics are the first Olympics for Gray. Learn more about her and see her Olympic highlights at NBCOlympics.com.
Allisha Gray on Social Media
---
Ariel Atkins, Basketball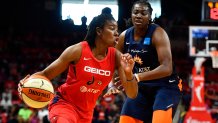 A Washington Mystics guard, Ariel Atkins is making her Olympic debut after she made the 5-on-5 U.S. national team for the 2021 Tokyo Olympics.
Born and raised in Duncanville, Atkins was a part of the legendary Duncanville High School women's basketball run from 2011 to 2014, where her team won 105 straight games and two Class 5A state titles.
She won the 2013 Gatorade State Player of the Year and followed her illustrious high school career by going to the University of Texas at Austin and becoming an All-Big 12 player and four-year standout starter for the Longhorns.
The 26-year-old was drafted seventh in the 2018 WNBA draft by the Mystics before helping the team win the 2019 WNBA Championship and becoming an All-Star in 2021.
The 5 foot 8-inch guard might be making her Olympic debut in Tokyo, but Atkins is not new to the U.S. national team or international play.
The three-time WNBA all-defense selection won a gold medal in the 2014 FIBA U18 Championship, an international title in the 2017 U24 Four Nations Tournament, and was named to the U.S. National Team pool in Feb. 2020 before securing her spot on the Olympic roster in June.
Atkins also participated in the 2016 U.S. Olympic Committee's Finding Leaders Among Minorities Everywhere (FLAME) summer program.
Her Team USA squad has won six consecutive gold medals, and Atkins will play a role in the quest for a seventh at the 2021 Tokyo Olympics.
You can read more about Atkins at the USA basketball website here and see the schedule for the team here.
Ariel Atkins on Social Media
---
Connor Fields, Cycling (BMX Racing)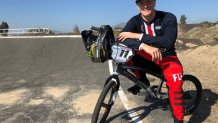 Connor Fields, born in Plano, is a 28-year-old BMX rider who made his first Olympic appearance in the 2012 London Olympics.
What started as a way to burn off a 7-year-old's pent-up energy has turned into a lifelong passion for the United States BMX star. When BMX racing was first introduced as an Olympic sport at the 2008 Beijing Games, Fields made a commitment to himself that he would one day shine on the world's biggest stage.
He spent much of his time training on the Olympic-sized BMX track at the Chula Vista Olympic Training Center near San Diego, California.
Just four years later, Fields turned his Olympic dream into reality. After a disappointing seventh-place finish in London, Fields won a gold medal during the 2016 Rio Olympics.
Connor Fields on Social Media
---
Hailey Hernandez, Diving (Women's 3m Springboard)
Hailey Hernandez surprised the diving world when she qualified for the Tokyo Olympics after placing second in the women's 3-meter springboard competition at the U.S. Olympic Team Trials in Indianapolis in June.
The 18-year-old had just graduated from Southlake Carroll High School, where she won her four straight UIL 6A girls' state championships in the 1-meter dive.
Now, just a few months away from winning at the Texas high school level, Hernandez will plunge into Olympics competition.
"It's incredible. It's just the best feeling in the world. It's always a dream to be a competitive athlete and going to the Olympics, but when you actually accomplish those dreams, it's unreal," Hernandez said to NBC 5. "Knowing that all the hard work you put in actually paid off."
From Southlake, Hernandez received a sendoff from her hometown community in the Southlake town square on July 18. She's set to continue her diving career at the storied University of Texas at Austin program in the fall and could begin college with an Olympic medal in hand.
You can read more about Hernandez on the Team USA website here and watch her compete in the 3-meter springboard competition live at 2 a.m. on Aug. 1.
Hailey Hernandez on Social Media
---
Bryson DeChambeau, Golf (Men's Individual)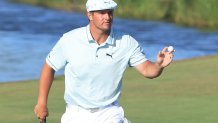 A professional golfer living in Dallas, Bryson DeChambeau is currently ranked sixth in the world on the PGA Tour, a ranking that allowed him to just qualify for the Olympics as a member of Teem U.S.A.
He won his first major championship in the 2020 U.S. Open.
Born Sept. 16, 1993, in California, DeChambeau, 27, went to Southern Methodist University on a scholarship and became the first Mustang to win an NCAA individual title in 2015.
In 2016, when he couldn't defend his title due to a postseason ban for SMU, DeChambeau decided to go pro. His analytical approach to the game has earned him the nickname "The Scientist."
DeChambeau, who studied physics at SMU, is known for his aggressive and less traditional approach to golf, which he'll bring to the Tokyo Olympics in his first Olympic Games.
You can read more about DeChambeau on the Olympics website here and watch him tee off starting Aug. 27.
Bryson DeChambeau on Social Media
---
Emma Malabuyo, Gymnastics (Alternate)
Emma Malabuyo, from Flower Mound, is an 18-year-old gymnast who was named an alternate for the U.S. Women's Gymnastics Team for the 2021 Tokyo Olympics.
She's been doing gymnastics since she was 5, and her dreams were realized in St. Louis when she earned a spot as an alternate.
"It hasn't even hit me, still, that this dream, it came true and I get to go to Tokyo," Malabuyo said to NBC 5's Allie Spillyards. "And I'm just so honored and thankful that I get to be a part of Team USA."
The 18-year-old was originally born in California before moving to Flower Mound in 2013. For the last eight years, she's been training at Texas Dreams Gymnastics in Coppell under the guidance of coach and former Olympian Kim Zmeskal.
Malabuyo began competing for the U.S. National team in 2016 and after the Olympics, she'll head to UCLA to continue her impressive gymnastics career.
You can read more about Malabuyo on USA Gymnastics' website here and follow along with Malabuyo and her teammates with the gymnastics schedule here.
Emma Malabuyo on Social Media
---
Brian Irr, Karate (Men's Kumite +75kg)
When it was first announced that karate was added to the Tokyo Games, Brian Irr, a New York native, left his hometown and moved to Plano to train with fellow teammate Tom Scott and coach Brody Burns.
He said he was at crossroads, deciding whether to pursue a career outside of karate or pursue his passion full-time.
But the move to Texas paid off when the 32-year-old qualified for the Games in the over-75kg weight class, where he'll compete in Kumite, sparring against other karate athletes.
Irr told NBC 5's Allie Spillyards these Olympics are the "opportunity of a lifetime," with karate making its Olympic debut for the first and perhaps only time, with the sport out of the 2024 Olympic Games.
"For this opportunity to occur at this point in time, during my competitive career, it really is special and it really is a unique position to be in," Irr said.
Irr will turn 33 right before the Tokyo Olympics. He currently ranks ninth in the world in the over-84kg weight class, and won gold at the 2019 Pan American Games in Lima, Peru.
Irr currently is an instructor at the Academy of Classical Karate and has previously taught in Plano ISD as a substitute teacher.
You can read more about Irr's path to the Olympics at NBCOlympics.com and watch Irr compete in Kumite on Aug. 7.
---
Tom Scott, Karate
Karate athlete Tom Scott almost didn't qualify for his first Olympics at Tokyo after he narrowly missed out in the selection process.
But USA Karate said Scott was the next man up if a spot became available, and the World Karate Federation awarded him a spot July 9 after an Iranian karate athlete could not compete due to a doping ban.
Scott was born and raised in Richardson and now lives in the town. The 31-year-old grew up practicing karate at the Academy of Classical Karate in Plano, where he now teaches.
The 6-foot, 164-pound karate athlete went to Jesuit College Prep for high school and then Texas Christian University for college, where he met his wife while chasing for a goat, Scott said in an interview with NBC Olympics.
He credits his coach at the Academy of Classical Karate, Brody Burns, for allowing him to pursue his professional karate career while also teaching and handling marketing for the academy.
Scott competes in the under-75kg weight class, where he's collected two Pan American gold medals and six Pan American championships along with 15 national championships.
His last gold medal came in 2019 at the Pan American Games in Lima, Peru.
This year's 2021 Tokyo Olympics is his first chance at medaling at the world's highest stage when karate makes its Olympic debut as a sport. But it might also be his last chance, with karate already being excluded from the 2024 Paris Olympics.
Scott, along with Brian Irr, who also trains at the Academy of Classical Karate under Burns, are the two Americans competing in Kumite, where athletes spar against one another.
You can read more about Scott's journey to the Olympics at NBCOlympics.com and watch Scott compete on Aug. 6.
Tom Scott on Social Media
---
Austen Smith, Shooting (Women's Skeet)
Austen Smith, of Keller, is the youngest member of the U.S. Olympic shooting team.
The Keller High School graduate will turn 20 on the day of the Olympic Opening Ceremony. She earned her spot on the Olympic team more than a year ago, just a few months before the pandemic shut the world down and pushed the Tokyo Games back a year.
"I didn't even expect to make this Olympics. We have a team full of world champions, Olympians, national champions, and world record holders. I was just so happy to make it," Smith said to NBC 5's Laura Harris. "I was on the junior team for so long. I just had probably the best years of my life over the past Olympic trials and I just made the team out of the blue."
During the wait to compete, Smith became a student at the University of Texas at Arlington, where she's currently studying aerospace engineering.
She's coached by fellow Olympian and North Texan Vincent Hancock, who is a two-time gold medalist hoping to repeat again in Tokyo.
For Smith, however, these Olympics are just the start of a promising career. She began shooting six years ago, according to Team USA, and made headlines with a gold medal at the 2021 World Cup in Lonato, Italy.
You can read more about Smith on the USA Shooting website, and watch her compete in the 2021 Tokyo Olympics on July 25.
Austen Smith on Social Media
---
Vincent Hancock, Shooting (Men's Skeet)
Vincent Hancock is no stranger to Olympic success.
The Fort Worth shooter already has two Olympic gold medals in skeet shooting and is back for a third. The 32-year-old became the first U.S. skeet shooter to repeat for Olympic gold after winning in both the 2008 Beijing Olympics and the 2012 Rio Olympics.
Born in Florida and raised in Georgia, Hancock and his family now live in Fort Worth, where he also coaches in addition to training.
With a fourth World Championship title in 2018, Hancock added to his long list of accomplishments by becoming the first man to win four world titles.
But, he told NBC 5's Laura Harris, his will to win was tested when the pandemic hit.
"As soon as we found out [they were delayed] I tried going to the range. I was able to practice for about 20 minutes. I think it was one box of shells and I just looked at some of the others and said, 'I can't do this,'" Hancock said.
He took a nine-month break from the sport during the pandemic, the longest break he's had from the sport since he was 12.
But now, Hancock is back and as always, one of the top competitors in the men's skeet shooting competition.
You can read more about Hancock at NBCOlympics.com and watch him compete in men's skeet shooting on July 24.
Vince Hancock on Social Media
---
Ronnie Baker, Track & Field (100M & 4x100 Relay)
Ronnie Baker is a Fort Worth sprinter who's putting together the best performances of his life at the right time.
The TCU alum and 27-year-old qualified for the Olympics with a personal best 9.85 in the 100-meter race at the U.S. Track and Field Olympic Trials in Oregon in June.
But, as he said to NBC 5's Laura Harris, that was just the beginning.
"I believe I still have more in the tank as far as what I can do and what I can accomplish, but yeah, I feel like I did my best at those moments," Baker said.
Before the Louisville, Kentucky native headed to his first Olympic games, Baker followed up his Olympic trials performance with a statement win in the July Monaco Diamond League 100-meter dash, beating several other Tokyo Olympics competitors.
Baker majored in kinesiology at TCU, where he switched from the 400-meter to shorter sprint events and won two NCAA individual titles in the 60-meter.
Baker will also compete in the 4x100 relay in a second chance for a gold medal. He was a gold medalist in the 2017 World Relays in the 4x100.
You can read more about Baker at NBCOlympics.com and watch him compete in the 100-meter dash on July 29.
Ronnie Baker on Social Media
---
Jasmine Moore, Track & Field (Triple Jump)
Jasmine Moore from Grand Prairie is a local track and field phenom who is taking her talents to Tokyo.
The 20-year-old graduated from Mansfield Lake Ridge High School, where she collected nine championships and went to college at the University of Georgia.
She continued her championship pedigree in the SEC, winning the triple jump at the SEC Outdoor Track and Field Championships before earning the last spot on Team USA at the Olympic trial in Eugene, Oregon.
"The experience was so much more than I hope it would be. Especially when we took the victory lap. Getting to hold the American flag and taking pictures and just soaking it in. It was amazing," Moore said to NBC 5's Laura Harris.
In her first Olympics, Moore is the youngest of the three American women competing in the triple jump.
You can read more about Moore at the Team USA website here and watch her compete in the triple jump on July 30.
Jasmine Moore on Social Media
---
Chiaka Ogbogu, Volleyball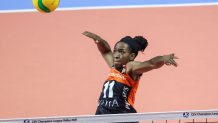 Chiaka Ogbogu is a North Texas native and volleyball player headed to her first Olympic Games.
The 26-year-old was born in New York but calls Coppell home after she moved to North Texas just weeks after she was born when her father accepted a position as an emergency room doctor.
A 6-foot-2-inch middle blocker, Ogbogu starred at Coppell High School, where she was named the Gatorade Texas Volleyball Player of the Year in 2012 and led her team to state titles in 2011 and 2012.
She then went to the University of Texas at Austin, where she left as a three-time All-American and school record holder in blocks.
According to her Team USA biography, she plays for a professional team in Turkey and also works as an interior designer. Her hobbies include painting and playing the piano.
But Ogbogu is putting those talents aside for a few weeks to head to Tokyo, where she will make her Olympic debut.
You can watch Ogbogu by following the U.S. women's volleyball team along here.
Chiaka Ogbogu on Social Media
---
Jourdan Delacruz, Weightlifting (49kg Women)
Jourdan Delacruz, a weightlifter from Wylie, grew up as a competitive cheerleader and found her way into weightlifting after working with a CrossFit owner.
Chris Coker, the former owner of CrossFit Wylie, said Delacruz's natural strength and awareness she possessed was obvious from her first session.
"I told her mom about 30 minutes into that first session that if she really liked [weightlifting], she would go to the Olympics," Coker said to the Dallas Morning News's Arianna Vedia. "Her mom thought I was crazy, of course. But it was just that obvious."
Delacruz proved Coker right, and the two told Vedia that they weren't surprised when she was named to the Olympic roster in May.
The 5-foot 23-year-old is competing in the 49kg or 108-pound weight class.
A two-time Pan American Champion, Delacruz got into the sport quickly and never looked back, notching three Pan American records and nine American records. Her all-time best total is sixth in the world.
You can watch Delacruz compete on July 23 at 8:50 p.m.
Jourdan Delacruz on Social Media
---
Austin Krajicek, Tennis (Men's Doubles)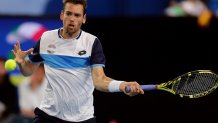 Austin Krajicek from Plano was selected to represent Team USA in men's doubles at the Tokyo Olympics.
The 31-year-old professional tennis player competed in collegiate tennis at Texas A&M University, where he won the 2011 NCAA Doubles National Championship and was a four-time doubles All-American.
Krajicek, a left-handed player, will team up with his regular partner Tennys Sandgren in his Olympics debut at Tokyo.
His highest career doubles ranking came in May 2019, when he was ranked the 35th by the ATP.
You can see when Krajicek, along with the rest of Team USA tennis, is playing here.
Austin Krajicek on Social Media
---
Luka Doncic, Basketball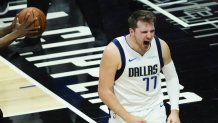 Dallas sports and general basketball fans will know Luka Doncic as the Mavericks superstar.
But Doncic will also be playing for his home country of Slovenia during the Tokyo Olympics.
The guard willed his national team to the Olympics for the first time in Slovenian history on July 4. In the 96-85 win at Lithuania on Sunday to clinch a spot in the Tokyo Games, Doncic had 31 points, 11 rebounds, and 13 assists.
"We're making history for our country," Doncic said. "We can just go up from here."
Doncic is also making his own Olympic debut. The 22-year-old, who was born in Ljubljana, Slovenia, will try and lead his national team past Group C, which includes Argentina, Japan, and Spain.
Fellow Maverick Josh Green is also playing in Tokyo for the Australian national team.
You can find out the schedule and how to watch Doncic and Green play from our partners at the Dallas Morning News.
Luka Doncic on Social Media
---