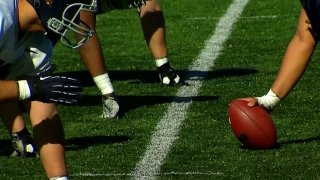 In Class 6A, with a 49-27 win over Tyler Legacy, Rockwall Heath moved up from No. 6 to No. 5 in Texas Football's rankings and Denton Guyer moved up from No. 11 to No. 10 after beating Little Elm 45-31.
In Class 5A, Frisco Lone Star moved up from No. 8 to No. 5 with a 49-6 win over The Colony, 49-6. Colleyville Heritage moved up from No. 7 to No. 6 after beating Burleson Centennial, 37-27.
Galena Park North Shore is up to No. 7 in Class 6A high school rankings after beating Humble Atascocita in a top-10 showdown
Dave Campbell's Texas Football magazine and TexasFootball.com's high school rankings after Week 10, distributed by The Associated Press.
Big Game Friday Night
CLASS 6A
Rank School (Record) Week 10 Prv rank
1 Austin Westlake (9-0) W: Austin High, 77-3 1
2 Katy (9-0) W: Katy Taylor, 67-17 2
3 Southlake Carroll (9-0) W: Keller Timber Creek, 42-7 3
4 Duncanville (7-1) W: Mansfield, 63-17 4
5 Rockwall Heath (8-1) W: Tyler Legacy, 49-27 6
6 Spring Westfield (9-0) W: Aldine, 66-0 7
7 Galena Park North Shore (9-1) W: Humble Atascocita, 31-21 8
8 Lake Travis (8-1) W: Austin Akins, 56-7 9
9 Spring (8-1) W: Aldine Nimitz, 34-3 12
10 Denton Guyer (9-1) W: Little Elm, 45-31 11
11 Humble Atascocita (7-2) L: Galena Park North Shore, 31-21 5
12 SA Northside Brennan (9-0) W: SA Northside Holmes, 55-3 13
13 Rockwall (7-2) W: Mesquite Horn, 52-26 14
14 Arlington Martin (7-2) W: Grand Prairie, 66-20 15
15 Euless Trinity (8-1) W: Haltom, 42-0 16
16 Cibolo Steele (9-0) W: Converse Judson, 35-30 17
17 Midland Legacy (7-1) W: San Angelo Central, 69-28 18
18 Austin Vandegrift (9-0) W: Hutto, 49-9 20
19 Allen (7-2) L: Prosper, 28-23 10
20 The Woodlands (7-2) W: Conroe, 45-32 21
21 Fort Bend Ridge Point (8-1) W: Fort Bend Bush, 49-21 22
22 DeSoto (7-2) W: Mansfield Lake Ridge, 54-35 23
23 Dickinson (7-2) W: League City Clear Springs, 35-24 24
24 Jersey Village (9-0) W: Houston Stratford, 28-21 25
25 Katy Tompkins (8-1) Idle NR
CLASS 5A DIVISION I
Rank School (Record) Week 10 Prv rank
1 Denton Ryan (8-1) W: Frisco Independence, 41-7 1
2 College Station (9-0) W: Waller, 70-0 2
3 Dallas Highland Park (8-1) W: West Mesquite, 60-28 3
4 Amarillo Tascosa (8-1) Idle 4
5 Frisco Lone Star (8-1) W: The Colony, 49-6 8
6 Colleyville Heritage (8-1) W: Burleson Centennial, 37-27 7
7 Dripping Springs (9-0) W: Buda Johnson, 52-7 10
8 Manvel (7-2) W: Katy Paetow, 33-28 NR
9 Katy Paetow (8-1) L: Manvel, 33-28 5
10 Magnolia West (9-0) W: New Caney, 31-24 NR
CLASS 5A DIVISION II
Rank School (Record) Week 10 Prv rank
1 Aledo (9-0) W: Arlington Seguin, 55-21 1
2 Lucas Lovejoy (9-0) W: Frisco Lebanon Trail, 55-7 2
3 Fort Bend Marshall (8-0) W: Houston Sterling, 56-0 3
4 Ennis (9-0) W: Royse City, 48-20 4
5 Lubbock Cooper (8-1) W: Abilene Wylie, 38-10 5
6 Dallas South Oak Cliff (8-1) W: Dallas Kimball, 59-7 6
7 Texarkana Texas (8-0) W: Nacogdoches, 37-20 7
8 Montgomery (9-0) W: Huntsville, 35-28 (OT) 8
9 SA Alamo Heights (9-0) W: Lockhart, 49-35 9
10 Crosby (7-2) W: Santa Fe, 57-0 10
CLASS 4A DIVISION I
Rank School (Record) Week 10 Prv rank
1 Austin LBJ (9-0) W: Burnet, 45-3 1
2 Stephenville (9-0) W: Midlothian Heritage, 38-27 2
3 El Campo (8-1) W: West Columbia, 63-42 3
4 Melissa (7-2) W: Terrell, 36-14 4
5 Argyle (8-1) W: Kaufman, 48-21 5
6 Kilgore (8-1) W: Athens, 42-13 6
7 WF Hirschi (7-2) W: Decatur, 28-22 7
8 CC Calallen (8-1) W: Beeville Jones, 60-7 8
9 Waco La Vega (6-3) W: Alvarado, 56-10 9
10 Lindale (6-3) W: Palestine, 53-23 NR
CLASS 4A DIVISION II
Rank School (Record) Week 10 Prv rank
1 Carthage (8-0) W: Madisonville, 54-3 1
2 Gilmer (8-1) W: Paris North Lamar, 56-6 2
3 Celina (7-1) Idle 3
4 West Orange-Stark (7-1) Idle 4
5 China Spring (9-0) W: Robinson, 52-21 5
6 Bellville (9-0) W: La Marque, 35-0 6
7 Cuero (8-1) W: Smithville, 53-25 8
8 Sinton (8-1) W: Rio Hondo, 56-14 9
9 Wimberley (7-2) W: Grapevine, 35-17 10
10 Van (9-0) W: Canton, 55-54 7
CLASS 3A DIVISION I
Rank School (Record) Week 10 Prv rank
1 Tuscola Jim Ned (9-0) W: Breckenridge, 35-12 1
2 Brock (9-0) W: Peaster, 80-7 2
3 Mount Vernon (9-0) W: Pottsboro, 37-14 4
4 West (9-0) W: Grandview, 28-20 6
5 Lorena (7-2) W: Caldwell, 56-0 8
6 Columbus (7-2) W: Hallettsville, 14-13 10
7 Tatum (8-1) W: White Oak, 35-14 9
8 Hallettsville (7-2) L: Columbus, 14-13 3
9 Edna (8-2) W: Vanderbilt Industrial, 26-16 NR
10 Grandview (8-2) L: West, 28-20 7
CLASS 3A DIVISION II
Rank School (Record) Week 10 Prv rank
1 Franklin (10-0) W: Clifton, 57-0 1
2 Gunter (9-0) W: Lone Oak, 77-15 2
3 Childress (8-0) Idle 3
4 Holliday (9-0) W: WF City View, 41-0 4
5 New London West Rusk (9-0) W: Grand Saline, 49-26 5
6 Newton (7-1) W: Hemphilll, 52-22 6
7 Lubbock Roosevelt (9-0) W: Coahoma, 52-19 7
8 Waskom (8-1) W: Elysian Fields, 42-12 8
9 Abernathy (8-1) W: Stanton, 40-7 10
10 Odem (10-0) W: Hebbronville, 28-20 NR
CLASS 2A DIVISION I
Rank School (Record) Week 10 Prv rank
1 Refugio (9-0) W: Kenedy, 62-0 1
2 Shiner (9-0) W: Ganado, 49-7 2
3 Timpson (7-0) W: Joaquin, 47-0 3
4 Crawford (9-0) W: Itasca, 54-0 4
5 Hawley (9-0) W: Colorado City, 55-0 5
6 New Deal (8-1) W: Floydada, 48-15 6
7 Beckville (9-0) W: Big Sandy, 66-0 7
8 Mason (8-1) W: Brackettville, 51-0 8
9 Coleman (8-0) W: San Saba, 49-7 9
10 Forsan (9-0) W: Stamford, 30-6 10
CLASS 2A DIVISION II
Rank School (Record) Week 10 Prv rank
1 Mart (9-0) W: Hubbard, 77-0 1
2 Muenster (9-0) W: Chico, 51-0 2
3 Windthorst (8-1) W: Petrolia, 45-21 3
4 Albany (8-0) W: Santo, 33-6 4
5 Stratford (8-1) W: Vega, 35-0 5
6 Falls City (8-1) W: Agua Dulce, 54-0 6
7 Tenaha (8-2) W: Overton, 42-8 7
8 Clarendon (8-1) W: Wheeler, 48-20 8
9 Wellington (5-3) Idle 9
10 McCamey (7-1) W: Plains, 62-8 10
CLASS 1A SIX-MAN DIVISION I
Rank School (Record) Week 10 Prv rank
1 May (9-0) Idle 1
2 Jonesboro (10-0) W: Lometa, 62-14 2
3 Abbott (9-0) W: Aquilla, 52-0 3
4 Water Valley (9-0) Idle 4
5 Rankin (8-1) W: Midland TLC, 72-0 5
6 Springlake-Earth (7-1) W: Nazareth, 54-50 6
7 Sterling City (7-2) Idle 7
8 Garden City (8-2) W: Lenorah Grady, 59-8 8
9 Herrmleigh (10-0) W: Ira, 66-48 10
10 Westbrook (5-4) W: Robert Lee, 45-0 NR
CLASS 1A SIX-MAN DIVISION II
Rank School (Record) Week 10 Prv rank
1 Matador Motley County (9-0) W: Southland, 64-0 1
2 Strawn (9-0) Idle 2
3 Richland Springs (6-1) Idle 3
4 Balmorhea (7-1) W: Dell City, forfeit 4
5 Follett (9-0) W: Miami, 64-0 5
6 Anton (8-0) W: Amherst, 76-38 6
7 Jayton (9-0) W: Afton Patton Springs, 52-0 7
8 Throckmorton (9-0) W: Moran, 52-6 8
9 Benjamin (9-0) W: Rule, 54-8 9
10 Lamesa Klondike (8-1) W: Wilson, forfeit 10
PRIVATE SCHOOLS -- 11-MAN
Rank School (Record) Week 10 Prv rank
1 Austin Regents (8-0) W: CC John Paul II, 45-6 1
2 Dallas Parish Episcopal (8-1) W: FW Nolan, 63-35 2
3 Houston Second Baptist (8-1) W: Spring Frassati, 49-0 3
4 Episcopal School of Dallas (10-0) W: Dallas St. Mark's, 51-30 5
5 San Antonio Cornerstone (6-3) W: Nike Dallas FC, 14-7 NR
PRIVATE SCHOOLS -- SIX-MAN
Rank School (Record) Week 10 Prv rank
1 Waco Live Oak (9-0) W: Rockwall Heritage, 46-0 1
2 Marble Falls Faith (8-0) W: Austin Hill Country, 64-6 2
3 Bulverde Bracken Christian (8-0) W: San Marcos Hill Country, 69-12 3
4 Austin Veritas (8-1) W: Round Rock Christian, 78-7 4
5 Texas School for the Deaf (7-1) W: SA Castle Hills, 46-22 5