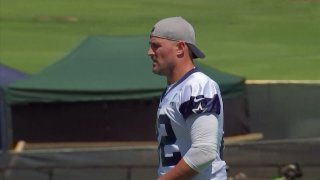 Jason Witten is now a Texas high school football head coach.
The longtime Dallas Cowboys tight end who spent his final season with the Las Vegas Raiders in 2020 will be the new head football coach at Liberty Christian School in Argyle.
The school confirmed the news on social media Monday morning. "It's a great day to be a Warrior," the school's tweet read.
Witten, 38, retired the first time after the 2017 season with Dallas to become an analyst for ESPN's "Monday Night Football."
Witten then returned to the league the next season to play for two years with the Las Vegas Raiders before announcing his second retirement last week. He said he planned to sign a one-day contract with the Dallas Cowboys so he can retire as a member of America's Team.
Witten holds many of the Dallas Cowboy records as tight end.
Cowboys' record 18 receptions in a single game
Most yards of any tight end in Cowboys' history with 12,448 yards
Cowboys' receptions leader with 1.152 catches
2012 Walter Payton: Man of the Year
11-time Pro Bowler
Click here to listen to the newest episode of Big Game Friday Morning.