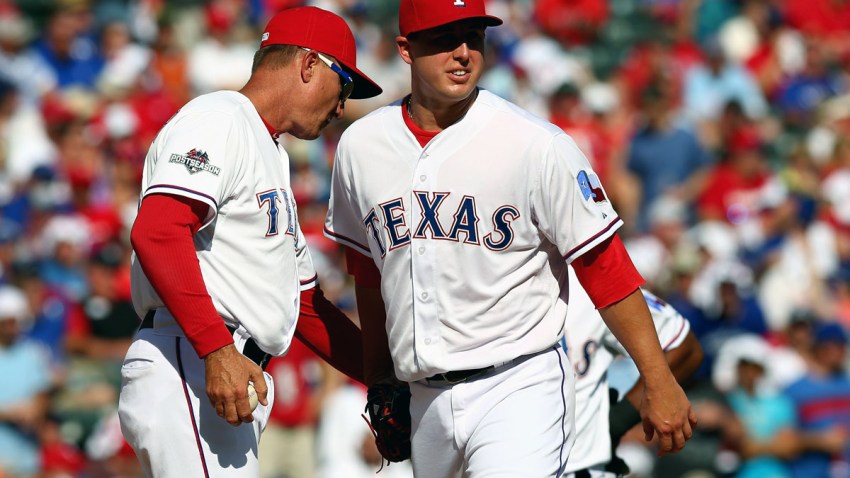 Derek Holland has a lot to forget about last year's ALDS against the Toronto Blue Jays.
Of course, there's his Game 4 outing in which he allowed three home runs in two innings of work in what would've been a closeout game for the Rangers and allowed the Blue Jays to force a decisive Game 5 back at their place. That was bad enough.
But before that, as the Rangers were taking a 2-0 lead in Toronto, he also made a gesture to fans in the bullpen by — ahem — performing a task of personal hygiene with a Blue Jays rally towel.
Sports Connection
Connecting you to your favorite North Texas sports teams as well as sports news around the globe.
So on Thursday as Holland takes the mound at the Rogers Centre looking to get a series split against the Jays, you can bet fans will be letting him hear about that awful stinker of an outing, as well as that — ahem — "stinker" of a joke he tried to play on Blue Jays fans.
"I was just kind of doing my stuff when the guy threw the towel down there," Holland told The Dallas Morning News. "It just got out of control. But I didn't wipe with a Canadian flag, as some people have said. I would never disrespect the flag of another country."
Yeah, OK, Derek. All that is well and good. But the Rangers lefty confessed to letting that entire series get the best of him, and he's still trying to bounce back. Thursday would be a great time to do that.
"I didn't help my situation, though," he said. "And they got me back the next game. That pretty much destroyed me."
Copyright FREEL - NBC Local Media