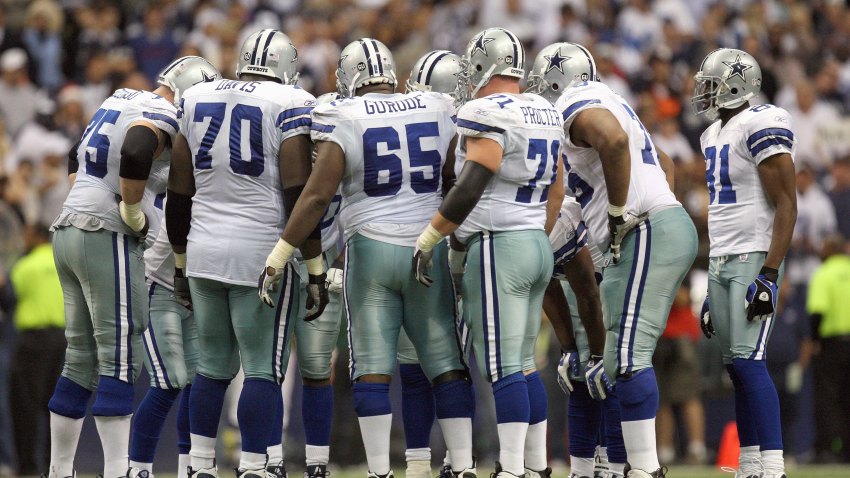 Free Reign would be, under normal circumstances, a "decent" rock act. They will never win a Grammy, they will never be the musical guest on Saturday Night Live, nor will they ever fill a stadium… at least, not as musicians.
But, for a nu-metal-type rock-act, Free Reign is anything but ordinary.
Comprised of three Dallas Cowboys offensive linemen/ apparent metal-heads, and one lead guitarist, the act is dubbed as "heavier than metal," a description that is clearly apt when you look at bassist Leonard "Bigg" Davis.
Sports Connection
Connecting you to your favorite North Texas sports teams as well as sports news around the globe.
Davis, who you may have seen crushing defenders with a vengeance on Sundays as the Dallas Cowboys' right guard, stands 6 feet 6 inches and weighs about as much as a jet ski.
Davis, along with tackle Marc Colombo (vocals, rhythm guitar), left guard Cory Procter (drums) and Justin Chapman (lead guitar), will make their debut on April 3 at the Granada Theater in Dallas.
Colombo, who played rhythm guitar for the heavy metal acts Blackmuff and the Metal Mercs previously, is the front man and leader of the quartet and no stranger to the bombastic drive of good metal; he lists Metallica's James Hetfield as his greatest influence.
Musically, Free Reign is probably better than anyone would guess. Their Myspace page boasts two songs ("Last Goodbye" and "All in Vain") that, at worst, are pretty good.
That's not to say that the band will win any approval in the world of hipster record-store employees, but it's (at least) as good as any so-called novelty act I've ever heard.
And even if you don't like Free Reign's lyrical stylings, I'll bet you dollars to donuts that no critic will tell them to their faces. If the Grammy Awards add the category, "Most Physically Intimidating Group Act," well, then, I'd have to change the second sentence of this piece.
But first things first; Free Reign will play their first show at the Granada on Friday, co-headlining the bill with local act Shorelines End. If the stage can hold under the gargantuan figures of the Dallas Cowboys' offensive line (and if you're willing to spend $10), you might just see a pretty good rock show.
And if not, I'd respectfully and sincerely advise against booing.
Copyright FREEL - NBC Local Media