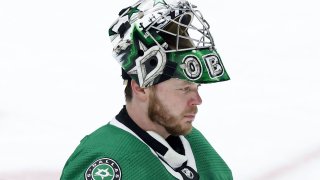 The Stars placed goaltender Anton Khudobin on waivers Monday afternoon, which would clear a roster spot and $1.125 million in cap space.
Khudobin, who is signed with Dallas through the end of next season, has not played since Nov. 18 in Minnesota and has been a healthy scratch in the last eight games. Jake Oettinger and Braden Holtby have been the team's two goaltenders in the last month.
Khudobin has a $3.333 million cap hit, but the teams can only bury $1.125 million in the minors. Even if he clears waivers and is assigned to AHL affiliate Texas, Khudobin will still count $2.208 million against the Stars cap.
The Stars will find out if Khudobin clears waivers on Tuesday afternoon at 1 p.m.
Khudobin is the second goalie the team has lost in a week. Dallas Stars general manager Jim Nill said Saturday that goalie Ben Bishop's career is over because of a degenerative condition in his right knee. Bishop is expected to retire Tuesday.
Read more on Khudobin from our partners at The Dallas Morning News.