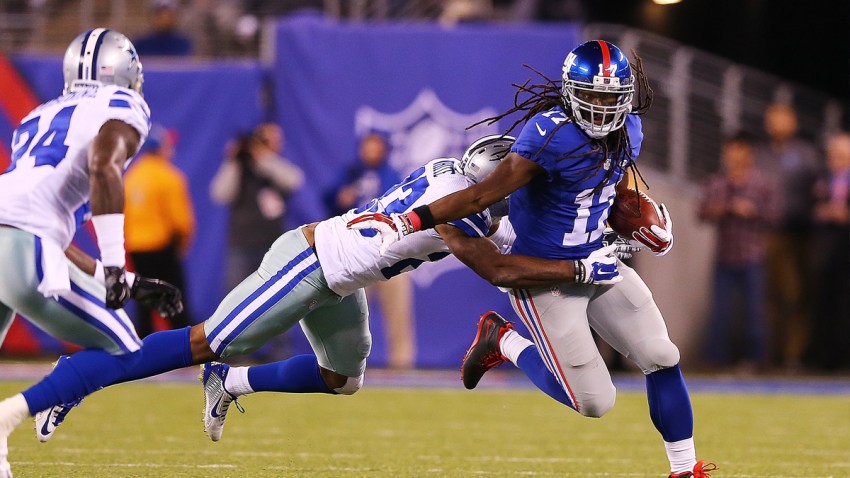 So much for that warm-'n-fuzzy, "United We Stand" camaraderie supposedly built from Friday's detour to Ground Zero. Because Sunday in New York the Cowboys were a fragmented, frustrated and futile outfit.
Matt Cassel was different from Brandon Weeden, but not necessarily better. And the special teams were atrocious, surrendering a 100-yard kickoff return and fumbling away the final chance at a game-tying drive.
On the sideline things began to fall apart as well, as defensive end Greg Hardy stalked the bench area after Dwyane Harris' kick-return touchdown. He yelled. He scowled. He berated the special-teams huddle, confronting coach Rich Bisaccia and swiping at his clipboard. He even appeared ready to get into a physical altercation with Dez Bryant, who wasn't suited up but was — as usual — passionately in the middle of everything.
Sports Connection
Connecting you to your favorite North Texas sports teams as well as sports news around the globe.
"There is no issue," Bryant told ESPN after the loss. "That's just football. People want to make nothing into something, especially when we lose. That's just football."
Maybe. But it was bad football. And worse control.
We all appreciate Bryant's mix of anger and immaturity that gets lovingly labeled "passion," but I predict he wants no part of Hardy. The defensive end is one of the few Cowboys that's bigger — and crazier — than the receiver.
Proving he's also very inefficient, Hardy told reporters "no comment" a half-dozen times at his locker. Wouldn't one sweeping "No comment" have done the trick?
Garrett, attempting to keep his team treading water until the returns of Bryant and quarterback Tony Romo, took his team on the motivational tour Friday night in Manhattan. But on Sunday he found himself attempting to put a positive spin on what was undeniably a negative incident.
"I was standing right there,"' Garrett said in his postgame news conference. "To be a good football player and a good football team, you have to have passion and put it all out there. Sometimes in a game, things don't go well and you have a response. A pro football coach and a pro football team understand that those things happen. You want the guys with passion. It was coming off the football field. That happens, you encourage guys and you try to get guys excited. You try to get guys ready for the next challenge. I believe from my vantage point, that's what he was doing."
Owner Jerry Jones said he didn't see the altercation but offered, "I would encourage it."
Hard to blame Hardy's frustration. A Dallas defense that played well enough to win — limiting the Giants to only 13 first downs, 289 yards and one offensive touchdown — walked off the field with another loss.
A native Texan who was born in Duncanville and graduated from UT-Arlington, Richie Whitt has been a mainstay in the Metroplex media since 1986. He's held prominent roles on all media platforms including newspaper (Fort Worth Star-Telegram, Dallas Observer), radio (105.3 The Fan) and TV (co-host on TXA 21 and numerous guest appearances, including NBC 5). He lives in McKinney with his wife, Sybil, and two very spoiled dogs.
Copyright FREEL - NBC Local Media