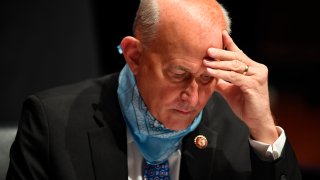 Rep. Louie Gohmert, R-Texas, tested positive Wednesday for the coronavirus, forcing him to abruptly cancel his plan to travel to his home state with President Donald Trump aboard Air Force One, a House Republican aide said.
Gohmert, 66, released a statement about the diagnosis on Twitter Wednesday afternoon saying he learned he was positive after two tests conducted at the White House Wednesday morning. Gohmert added that he is asymptomatic and that he was going to be careful to make sure he doesn't pass the virus on to anyone else.
An eight-term lawmaker, Gohmert participated in the House Judiciary Committee hearing Tuesday where Attorney General William Barr testified and also voted Tuesday on the House floor.
Before the hearing, the Associated Press reported Gohmert, who has been criticized in the past for not wearing a mask, was seen approaching the meeting room a few feet behind Barr, with neither man wearing a mask.
In his video statement on Twitter, Gohmert address claims he wasn't wearing a mask Tuesday and said comments made about committee members not wearing masks were directed at other members.
"I've worn a mask the last week or two in the whole last four months and I was wearing my mask at the judiciary hearing," Gohmert said on Twitter. "A couple of the other guys mentioned earlier today, 'Well Nadler wasn't fussing at you, you had your mask.' It was a couple of the other guys weren't wearing their masks."
Gohmert didn't say where he thought he might have contracted the virus, but speculated wearing the mask may have actually helped deliver germs into his body since he said he finds himself adjusting the mask for comfort.
"I don't know about everybody but when I have a mask on I'm moving it to make it comfortable and I can't help but wonder if that put some germs in the mask -- keep your hands off your mask," Gohmert said.
Gohmert is at least the 10th member of Congress known to have tested positive for the coronavirus, which can cause COVID-19.
"Now that I apparently have it I'm going to be very, very careful to make sure I don't give it to anybody else and we'll see how it goes," Gohmert said.
NBC 5 News and the Associated Press.