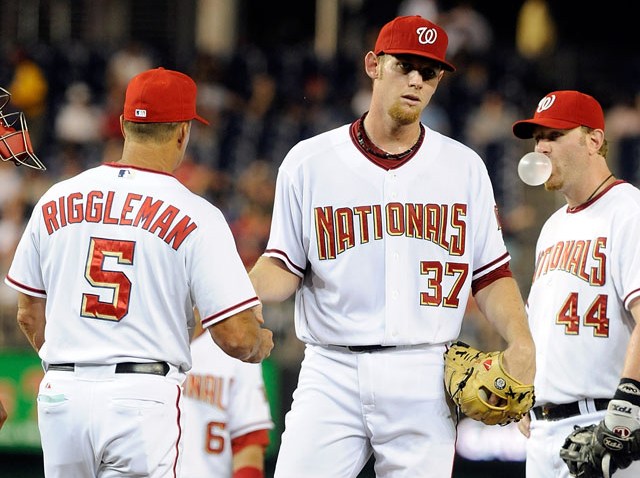 All of those pitch counts, timetables and plans to not injure Stephen Strasburg's golden arm? They didn't work.
The Nationals said Friday that their star rookie pitcher has a "significant tear" in his elbow ligament and probably will have Tommy John surgery.
General manager Mike Rizzo said that an enhanced MRI taken a day earlier revealed the extent of the injury to the right
elbow. The significant tear is in his ulnar collateral ligament. Click here to learn more about this type of injury.
The 22-year-old right-hander will travel to the West Coast for a second opinion (preferably not from Rob Dibble). But Rizzo says he anticipates Strasburg will require surgery, ruling him out for 12 to 18 months.
If he does have the surgery, it will most likely be done by the same surgeon that performed Jordan Zimmermann's similar operation. Zimmermann just returned to the Nationals' roster this week after having the surgery in August 2009.
The news brings an abrupt halt to Strasburg's promising first season. He struck out 14 batters in his major league debut in June. Strasburg is 5-3 with a 2.91 ERA and 92 strikeouts in 68 innings.
Is this the end of Strasburg's career? No. Tommy John surgery has become so common that pitchers don't actually dread it any more. In fact, some people say pitchers who have it come back stronger.
"You go back to Tommy John and how it's evolved over the course of time, it's definitely at the point where it's not a negative anymore," Rays manager Joe Maddon told the Associated Press earlier this year. "You do believe that if it happens to a young guy, you know you're going to have him back and possibly even better. It's the world we live in, man."
Strasburg even better after the surgery? That's up for debate. But at least we know there's now life (and a healthy career) after Tommy.