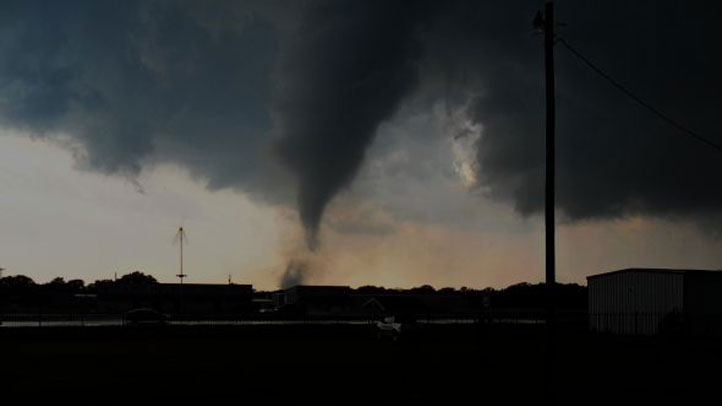 More than a dozen tornado reports across east and central Texas came in Tuesday as a series of unusual and severe storms moved through North Texas, including one confirmed E-F1 tornado.
The National Weather Service said Wednesday that an E-F1 tornado struck the Van Zandt County area including Ben Wheeler, Van and Edom as six super cells moved through North Texas.
NWS teams have confirmed seven tornadoes in North and Central Texas and suspect there were four more. The weather service said it could be a few days before all of the data on Tuesday's storms is complete.
Local
The latest news from around North Texas.
At least one person was injured in Van. The Van Zandt County Sheriff's Department said there was damage to approximately 100 structures, including three that were destroyed, the NWS said.
In Edom, a town of about 300 residents 75 miles east of Dallas, the 6 p.m. twister destroyed several homes. One was a mobile home where a woman suffered fractures and was taken to a hospital in nearby Tyler, Fire Chief Eddie Wood said.
An apparent tornado passed through Mabank in Kaufman County on Tuesday. Several other tornadoes were also spotted in the town, which also saw another apparent touchdown.
Ellis County, which saw a series of small twisters Monday, had heavy doses of rain and hail from fast-moving storms.
As the storm crossed Corsicana in Navarro County, a tornado tried to form several times but didn't drop down.
The storms struck even as authorities were still surveying the damage left by the weak twisters from the previous day in Ellis and Navarro counties when tornado warnings were issued Tuesday evening for the same areas.
While the violent weather is not unusual for a Texas spring, the duration of it is, National Weather Service meteorologist Eric Martello said.
Numerous different elements are combining to cause the storms, including a stagnant weather pattern with moist air and an upper level disturbance, Martello said.
"Basically, we're in a particularly dangerous situation weather-wise," he said.
Copyright AP - Associated Press