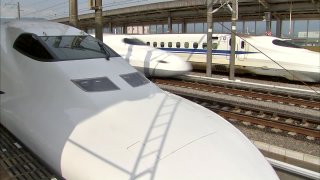 Texas Central Railway CEO Carlos Aguilar announced that he will be stepping away from the company seeking to build a high-speed rail line between Dallas and Houston.
The announcement was made on Saturday via Aguilar's LinkedIn page. Texas Central Railway, founded in 2013, has promised to build a multi-billion dollar speed railway, similar to the one in Japan, between Dallas and Houston.
The announcement comes amidst a rocky first half of 2022. In January, the company was involved in a Texas Supreme Court case in which a landowner challenged the company's eminent domain authority and sought a clear definition that Texas Central is a "railroad company." Ultimately, an appeals court concluded that Texas Central was "operating a railroad" and was a "railroad company" under the statute. Additionally, the court of appeals concluded that, because Texas Central was chartered for the purpose required under the Transportation Code, the company also qualified as an "interurban electric railway." The Texas Supreme Court, meanwhile, has not issued a ruling on the case.
Most recently in April, it was reported that the company was behind on its property taxes.
In his resignation post, Aguilar cited an inability to "align current stakeholders on a common vision for a path forward" as part of the reason for his departure.
Texas Central does not see Aguilar's resignation as an end of their project. The company said that it still plans to break ground soon on the 240-mile rail line.
Aguilar is still supportive of the company's efforts and hopes to see the cross-state speed rail "become a reality."
Texas News
News from around the state of Texas.
Editor's note: It was reported in this article the Texas Supreme Court ruled Texas Central was a railroad company. It was an appeals court that rendered that judgment. We regret the error.