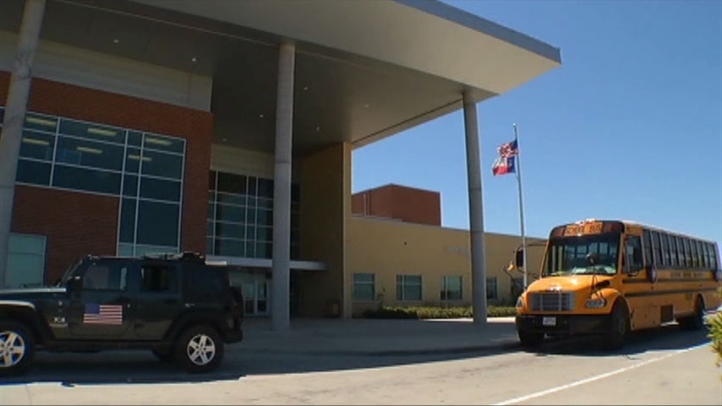 Hundreds of Keller Independent School District students walked five miles to the district's administration building in protest on Monday.
Students at Timber Creek High School in Fort Worth gathered in front of the school Monday morning for a peaceful sit-in.
Some of them later walked to the administration building in protest of $38 million in proposed budget cuts. The superintendent met with some of those students.
Local
The latest news from around North Texas.
The Timber Creek principal explained the reasons behind the budget cuts and answered students' questions during six assemblies throughout the day.
"Getting a ticket or getting suspended for three days is a small price to pay for keeping somebody like Coach Sammons at our school," junior Jordan Hennen said.
Kyle Sammons is one of 17 teachers at Timber Creek who have been told they will be laid off after the school year ends.
Administrators said each student who skipped class to protest will be punished individually, with discipline ranging from a parent-teacher meeting to a suspension.
More than 120 teachers across the district have been told they won't have jobs in the fall.
"It hurts our students because we have more students in classes and then more friends in classes together, so then it's harder to learn with big groups of more people," sophomore Abigail Tooley said. "Maybe we didn't change minds, but it put an impact on everyone because it shows that we really do care. We walked almost five miles to the administration building."
Funding could be slashed from many other areas, including athletics and fine arts. More than 1,000 students could also lose bus transportation.
"I think the way it was done in Keller was as good as it could get," said James Johnson, assistant principal at Timber Creek, who applauded the students who protested peacefully. "Today, I saw the emotions, I saw the energy. It's real."
The district is looking at other options to make up for the budget shortfall, from helping students organize fundraisers to raising property taxes.
One proposal would call an election in June for voters to approve a raise property taxes by 13 cents for every $100 in appraised value of a home.