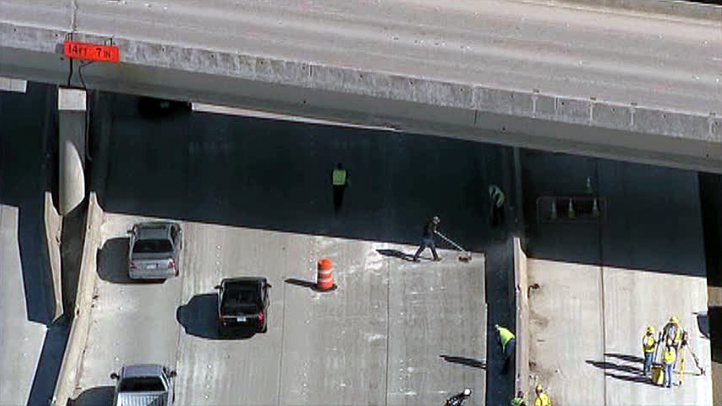 The Texan Trail overpass above State Highway 114 will remain closed indefinitely after an 18-wheeler damaged the bridge on Thursday.
The 18-wheeler's load was too tall and slammed into the bottom of the bridge at about 11:30 a.m. Some cars were damaged by fallen concrete.
The Texas Department of Transportation closed all eastbound lanes of SH 114 on Thursday night to assess the damage.
Local
The latest news from around North Texas.
"What we're doing right now is inspecting the project this evening to make sure of what we have out there, what the damage is, assess the damage, make some interim repairs and hopefully get some of it back open to the public by rush hour tomorrow morning," TxDOT spokesman Tony Hartzel said.
Crews working on the bridge did not know as of late Thursday night how much work needed to be done but were optimistic that eastbound SH 114 would be open for morning commuters on Friday.
However, the Texan Trail bridge is closed indefinitely, and TxDOT encourages drivers to use the Main Street bridge as an alternate route.
TxDOT officials were also trying to get other detours in place by Friday morning.
NBC 5's Ellen Goldberg contributed to this report.