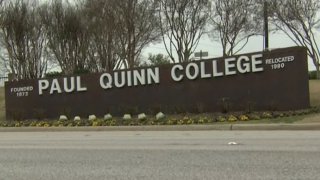 Paul Quinn College announced that it will once again be a COVID-19 testing site.
The college will begin testing from Saturday morning at 10 a.m at 3837 Simpson Stuart Road.
Paul Quinn will be offering free testing from 10 a.m. to 4 p.m., as well as free food boxes and free face masks every day through Wednesday.
The testing is organized by the city of Dallas, the Texas Division of Emergency Management and the Texas Military Department.
The testing is open to everyone. There is no residency or COVID-19 symptoms requirement to be tested and all screenings are free. Test results should be received in two to four days, according to the city.
The free food boxes will be available each testing date from 10 a.m. to 11 a.m. on a first-come, first-served basis.
A list of testing locations is available on the city of Dallas website, or by calling 214-670-INFO.