Two Northlake police officers are recovering after an 18-wheeler crashed into their vehicles along an icy stretch of Interstate 35W near Texas Motor Speedway.
Northlake police chief Robert Crawford confirmed Thursday, officers Matthew Koeper and Thomas Martinez are both in stable condition following the crash. The crash happened around 9:15 a.m. along southbound I-35W between Dale Earnhardt Way and Texas 114, in southern Denton County. Officer Koeper and Officer Martinez were responding to an unrelated and earlier crash when they were hit by an oncoming semi-tractor trailer, Chief Crawford said.
"Fortunately, they were both inside of their vehicles and their vehicles protected them. If they would have been outside of their vehicles, I don't think we would have our officers here with us today," Crawford said Thursday. "The biggest factor is the ice on the road. TxDOT has been doing a great job putting the sand and brine down and everything but when vehicles are going faster than their loads can carry, then they're going to have accidents. It's safer to stay home when we have icy conditions in Texas."
According to Chief Crawford, the semi-truck, hauling a full load of frozen meat products, overturned on top of one police vehicle and trapped one of the officers inside of his patrol vehicle before he was extricated.  The second police vehicle was struck and traveled approximately 50 yards from the initial impact.
In a press released Thursday evening, DPS said the driver of a Volvo truck tractor, towing a trailer, veered right to avoid colliding with a Ford SUV which had switched lanes to give the officers more space on the side of the roadway.
Instead, DPS says, "While traveling too fast for the icy road conditions, the driver of the truck-tractor struck the SUV, jackknifed, then struck the two patrol units and the vehicle involved in the initial minor accident.
The driver of the big rig has been identified as Jose Alejandro Landa Juarez, who authorities said was working for a trucking company out of Laredo. According to Crawford, Juarez also hit a woman's Ford Explorer. The driver of the third vehicle is 29-year-old woman from Fort Worth. She was treated and released on the scene. Juarez was also taken to the hospital, though his condition is not known.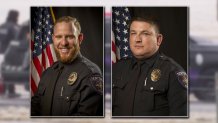 Officer Koeper and Officer Martinez were both transported to Baylor Scott & White in Grapevine. Northlake Chief of Police Robert Crawford told NBC 5 he visited both officers in the hospital and that they are doing well.
Local
The latest news from around North Texas.
Police said Koeper was treated for minor injuries and released while Martinez, who suffered head trauma after being pinned under the trailer, is stable. Martinez is expected to spend the night in the ICU observation, police said.
"There is no reason to be on the roadways if you don't need to be. There are so many accidents that are happening," Crawford said. "The last time in early February, we worked 17 or 18 accidents in a day, which normally that's about a month's worth. So, stay off the roads if you can. No job is that important to get out and do it, other than first responders. That's what we do."
Texas DPS has taken the lead on the investigation. It is not immediately clear if Juarez will receive any citations related to the crash, Crawford said.

DPS is investigating.
The southbound lanes of the highway remained closed for several hours before reopening at about 3 p.m.