What to Know
Nickey Van Exel is inmate No. 08744809 in the John B. Connally Unit in Kenedy, Texas.
After two hours of deliberations, jurors opted for a conviction on the lesser charge of murder available.
Van Exel will be eligible for parole in 2043, when he is 52 years old.
For the first time since being sentenced to prison for 60 years, Nickey Van Exel, the son of former Dallas Mavericks forward Nick Van Exel, is talking about the night he shot and killed his best friend.

Van Exel said he was playing with a gun when he accidentally fatally shot his friend Bradley Eyo in 2010. Prosecutors didn't agree with his account, charged him with murder and he was convicted three years later. In an exclusive sit-down interview with NBC 5's Pat Doney, Van Exel said the night he killed his friend still haunts him today.
Van Exel said he was unaware the gun was loaded, said the shooting was an accident and was surprised to hear that motive used to convict him in the case.
"It's nothing like they tried to make it seem. They took it all out of perspective, all out of context," Van Exel said. "I had played with it before and it was never loaded before … I didn't know and once I found out, it was too late."
Van Exel's argument was disputed by the prosecution, specifically because his actions following the event were seen as deliberate: he wrapped up Eyo's body in plastic and dumped it near Lake Ray Hubbard.
Scott Goldstein covered the case extensively for The Dallas Morning News in 2013. He said Van Exel's decisions following the incident were confusing at the least.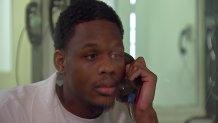 "If you accidentally kill your great friend, why would you wrap the body up, drive it, dump, clean up and not tell anyone?" Goldstein said. "It just didn't make sense."
Local
The latest news from around North Texas.
Van Exel said he hid the body because he was scared: "It was out of being scared, fear, not knowing what was about to happen. Panic."
The prosecution disagreed, asking at trial, "Is it panic? Or is it pure evil?"
The prosecution also argued Van Exel did not show the remorse of someone who made a mistake. He attended a gathering with Eyo's family, kissing Eyo's mother on the cheek and saying he would find her son's killer.
Van Exel said he was doing what he thought was right amid irrational circumstances.
"Me doing that, I do love her like a mother … I felt like it was the only way I could be there and grieve with the family," Van Exel said. "I was going to turn myself in. Everybody would know the truth."
He said he recognizes why that looks so questionable from the outside: "Of course I do."
Van Exel also explained why he showed little emotion at the trial and when the verdict was read.
"It's a trait that my mother and father have - not showing much emotion," he said. "Whatever is going through our minds, on the outside you couldn't tell - good or bad."
At 27, Van Exel will not be eligible for parole until he's 52 years old. While the minimum is another 25 years in prison, he could spend up to 55 more years behind bars.[[488777561,R]]
Van Exel said he's not upset about what could have been.
"I don't place blame because I take full responsibility for my foolish acts, being too careless," he said. "If I had been more focused as that age, I would be where I want to be right now."
While he acknowledges his guilt, he said his sentence was unfair.
"I'm guilty of manslaughter at the most," Van Exel said. "I was willing to take that; they never offered it. It's the system."
"Two families have basically lost their son, brother, one forever and the other for 30 years," Goldstein said. "You just wonder how that could have happened. Why would he even think to do that to his friend?"
Bradley Eyo's mother declined to speak on camera. She said she forgives Nickey, but her life remains forever changed and his remorse cannot change that.
Van Exel said is waiting for Eyo's family to welcome his apology.
"Me reaching out, I don't feel like it would do anything," Van Exel said. "All I can do is wait, pray and hope they can find forgiveness in their hearts."
He offered multiple apologies to Eyo's family throughout the interview.
"I'm really sorry. There's no words to express it. In this situation, words only go so far," Van Exel said. "I think about showing them, getting out and showing by my actions, not by my words."
He had one important message he wanted to share with everyone: "Don't play with guns. I'd like to start a movement, a nonprofit organization, for people who have lost loved ones."