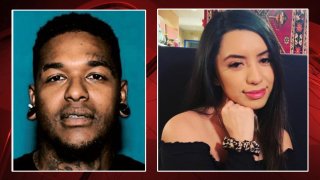 Dallas police are asking for help finding two people, a Seattle woman last seen in Deep Ellum and a man who police say may know something about her whereabouts.
Family members say 23-year-old Marisela Botello Valadez was last seen Oct. 5 in Dallas.
That's the same day Dallas police said a person of interest in her disappearance, Charles Beltran, was also last seen driving his car, a black 2014 Audi A6 with Texas license plate MJG 3114.
Botello's aunt, Dennesly Castillo, said the 23-year-old was visiting Dallas from Seattle to see an ex-boyfriend.
According to Castillo, Botello had gone to Deep Ellum alone on the last night of her stay.
She said surveillance video showed her leaving the Select Start Arcade and Bar shortly after 1 a.m. with a man the family doesn't believe she knew.
Local
The latest news from around North Texas.
Dallas police haven't verified the existence of that video.
With Botello's belongings left behind at the house where she'd been staying and a missed return flight home to Seattle, Castillo doesn't believe she disappeared willingly.
"She had a good job, a good life out here. She was just visiting. She likes to travel. That's what she does, so she wasn't running away from a bad situation. She's absolutely in some sort of danger," said Castillo.
Botello is described as Hispanic with black hair and brown eyes. She stands between 5 feet 2 inches and 5 feet 4 inches tall and weighs about 130 pounds.
She was last seen wearing a metallic purple dress.
Volunteers continue to hold search parties in Deep Ellum on Saturday mornings between 8 and 10 a.m.
Anyone with information about either Beltran or Valadez's location is asked to call the Dallas Police Department at 911 or 214-671-4268.