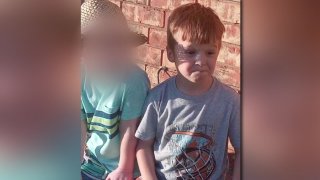 Darriynn Brown has been charged with capital murder in the death of 4-year-old Cash Gernon, whose body was found last month on a Dallas street.
Evidence submitted to a lab linked Brown, 18, to the boy at the time of his death, leading to the murder charge, the Dallas Police Department said in a statement. Police did not elaborate on what that evidence was.
Gernon was sleeping in his crib when he was abducted and killed early on a May Saturday morning. Gernon's body was inexplicably left in the street about a half-mile from his southwest Dallas home and was found by a passerby.
Police have said that investigators believe an "edged weapon" was used in the attack on the child.
In addition to the murder charge, Brown is also facing kidnapping and theft charges filed last month after Gernon's body was discovered. He is being held in the Dallas County Jail without bond on the capital murder charge, records show.
If found guilty, capital punishment in Texas carries an automatic life sentence or the death penalty. The desired punishment is determined by prosecutors before the trial begins.
NBC 5 reached out to Heath Harrison, Brown's attorney, on Thursday after the capital murder charge was announced and Harrison said Brown said he was not guilty of the boy's murder.