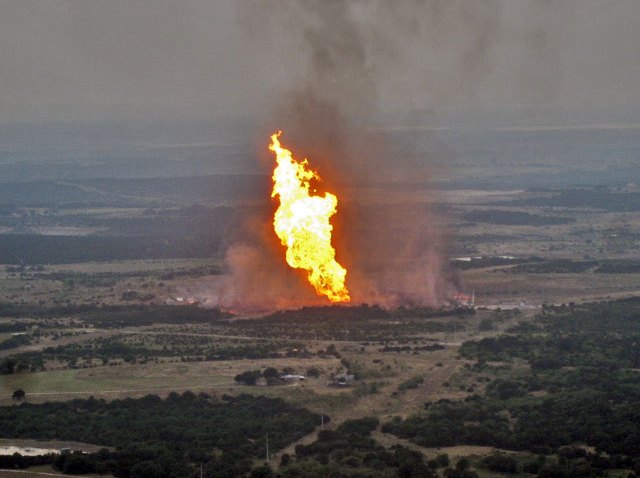 One construction worker was killed and eight were injured when a natural gas pipeline exploded in rural Johnson County on Monday afternoon, officials said.
The blast occurred west of Cleburne near the intersection of Johnson, Hood and Somervell counties shortly before 3 p.m. Contractors were digging holes for overhead transmission lines and struck an underground natural gas pipeline, said Jack Snow, Johnson County's emergency management coordinator.
A huge fireball shot hundreds of feet into the air.
Local
The latest news from around North Texas.
Enterprise Products of Houston owns the pipeline.
Johnson County Sheriff Bob Allford said late Monday night that crews had found the body of a subcontractor who had been missing since the blast. The man's body was found 300 yards from the scene of the initial explosion and was badly burned, Allford said.
The man worked for C&H Power Line Construction Services, a contractor for Brazos Electric Cooperative, which was installing the utility lines, Snow said.
Co-workers said the missing man was closest to the explosion, according to Johnson County Judge Roger Harmon.
"(From) what I was told, he was the one on the rig doing the digging," Harmon said. "Other workers looked around and saw him coming off the drilling machine, and they said smoke kind of enveloped everything, and they didn't see which way he went."
Witnesses reported hearing the blast as far as 20 miles away.
"I worked for the oil fields, (and) I never saw anything like this," said George Smith, who heard the explosion at his home in Joshua, about 20 miles away. "It's scary."
Private pilot John Gronemeyer, whose photos can be seen in our gallery above, took to the skies after hearing the explosion. Gronemeyer said the flames easily reached 700 feet and at times pierced 800 feet to 1,000 feet.
The explosion caused confusion among officials in its immediate aftermath, with the Cleburne city manager initially saying three people had been killed and 10 people were missing.
Six people taken to Glen Rose Medical Center, and four were treated and released within a few hours. The remaining two were in stable condition, said hospital CEO Gary Marks.
Several area fire departments from three counties battled a grass fire ignited by the explosion.
The explosion is under investigation. Officials want to know how the pipe was marked and if the construction crews were aware of the gas lines before digging.
An Enterprise Products spokesman said its control room was immediately notified of the break. The 36-inch line was equipped with valves that automatically shut down gas to that section of pipe.
The line carries natural gas from West Texas to distributors in East Texas.
Copyright AP - Associated Press