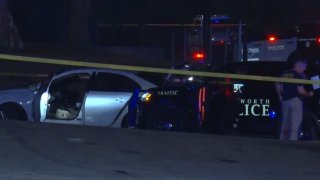 What to Know
Man fatally shot by police identified as 18-year-old Estevan Ramirez.
Police say Ramirez pointed a gun at officers before he was shot.
Two others who were traveling with Ramirez are at large; police say the vehicle they were riding in may be connected to a drive-by shooting
A man is dead after an overnight chase involving Lake Worth police ended in Fort Worth Friday morning.
According to the Lake Worth Police Department, officers were pursuing a sedan at approximately 2 a.m.
During the chase, officers received a call from White Settlement authorities that the vehicle had involved in past drive-by shootings and there was reason to believe occupants were considered armed and dangerous, according to Lake Worth Chief of Police J.T. Manoushagian.
Police said the pursuit entered Fort Worth and ended near the 3500 block of Horne Street. That's where police said three people got out of the sedan and tried to escape on foot.
Manoushagian told NBC 5 that one of the three people pointed a weapon at one of the officers who cried out "gun, gun, gun!". The officer fired his weapon, Manoushagian said.
"In this circumstance, these officers had no idea what they were getting themselves into. Certainly, they had a better idea once they received an "armed and dangerous" information," he told NBC 5.
Local
The latest news from around North Texas.
The injured person was taken to an area hospital where he later died. The Tarrant County Medical Examiner's Office identified the man as 18-year-old Estevan Ramirez.
The officer who fired his service weapon was uninjured, police said.
Ramirez's family told NBC 5 they are cooperating with the investigation but that they want to see the body camera footage of the shooting.
The two other people who ran have not been located at this time and no further information about their identities has been made public.
Check back and refresh this page for the latest information.