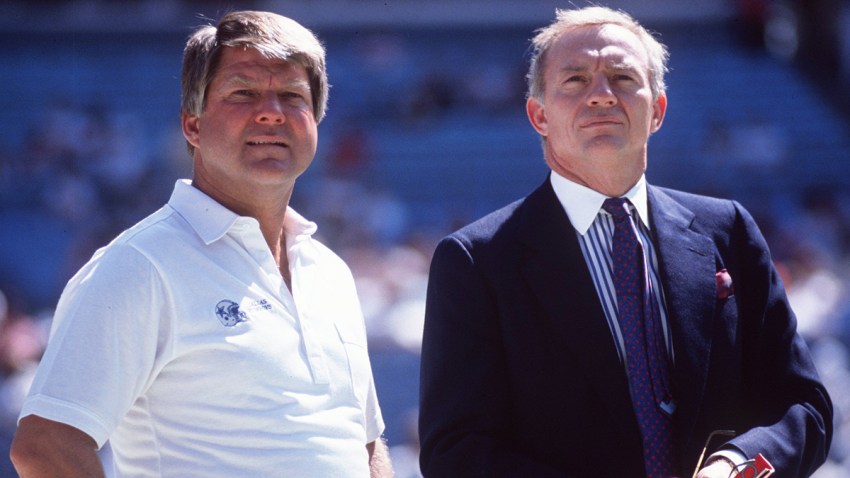 It seems fitting that Jimmy Johnson has joined Jerry Jones on the list of candidates for the 2017 NFL Hall of Fame class.
Johnson, the former Dallas Cowboys head coach, was one of 94 former players and coaches on the list of Modern-Era nominees for the Hall of Fame announced Wednesday. Jones was named a Senior Finalist Aug. 16.
Johnson also won playoff games as the coach of the Miami Dolphins and a national championship at the University of Miami, but he and Jones will always be defined by their time together. Their Cowboys appeared to be on the brink of a decade of dominance after back-to-back Super Bowl wins in 1992 and 1993 before they agreed to part ways before the 1994 season.
Local
The latest news from around North Texas.
The list of Modern-Era nominees also includes former Cowboys quarterback Drew Bledsoe, running back (and trade bait) Herschel Walker, wide receiver Terrell Owens, offensive lineman Nate Newton and defensive backs Everson Walls and Darren Woodson.
Former Texas Longhorn Eric Metcalf, TCU alum LaDainian Tomlinson and Texas Tech Zach Thomas are also on the list.
The list of Modern-Era nominees will be trimmed to 25 semifinalists in November and 15 finalists in January. They, along with three Senior Finalists, will be presented to a selection committee Feb. 4, 2017, the day before Super Bowl LI.
Nominees that receive at least 80 percent support from the selection committee will be inducted into the Hall of Fame. Process by-laws state that four to eight new members will be selected.
The 2017 Hall of Fame class will be announced at the NFL Honors award show and formally enshrined next August.