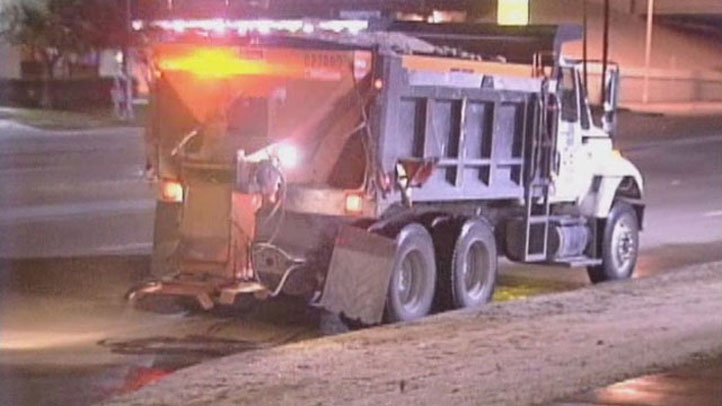 Two people were killed Tuesday morning in a collision on a Highway 287 bridge that may have been glazed with ice, Mansfield police said.
Police said a truck and a sport utility vehicle collided on Highway 287 at Lonestar at about 7:34 a.m.
Two of the five people inside the sport utility vehicle died. There was one person inside the truck. All of the individuals were transported to John Peter Smith Hospital.
Local
The latest news from around North Texas.
An investigation was underway to determine how the fatal wreck happened.
Icy conditions are likely to blame for other North Texas car crashes Tuesday morning.

A multi-car crash near Walton Walker Blvd near Cockrell Hill Road prompted the Texas Department of Transportation to bring sand trucks to the area. Five flatbed trucks and extra police were also requested at the scene to help clean up the crash.

In Plano, clean-up crews worked several accidents along state Highway 121 near the Dallas North Tollway, including a seven-car pileup. Officials closed state Highway 121 for a short time while the road was cleaned and treated with sand.

Lauren Eggebrecht was caught in the pileup on Highway 121 and said she suddenly lost control of her car.

"There were already several wrecks. Several of us started slowing down to avoid the wrecks. Then, suddenly, I lost control and ended up in a seven or eight-car pileup," said Eggebrecht. "I think everybody braked and once you did that, that's when the car started sliding. I stopped braking but it was too late. There were four cars on the side and I spun out and hit one of them. Someone came from behind and hit us."
Eggebrecht said one of the other drivers involved in the crash had driven the road only an hour before and said there was no ice present at that time.

Ice was reported at the following bridges and overpasses:

Interstate 20 and state Highway 360 in Arlington.
US 67 at Mt Lebanon Road
US 67 at Belt Line Road
State Highway 287 at Debbie Lane in Mansfield
State Highway 287 at Turner Warnell Road in Arlington
State Highway 121 at Hillcrest Road
State Highway 121 at the Tollway
Preston Road near state Highway 121