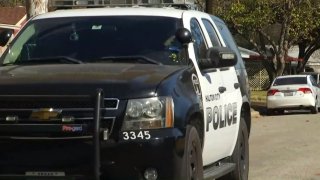 A woman reported being sexually assaulted Tuesday after being held at gunpoint at a Haltom City car wash, Haltom City police said.
At around 3 a.m., police responded to a car wash at 3900 Broadway Avenue for aggravated sexual assault.
According to police, who met with the woman reporting the sexual assault, a man asked her for change before pointing a handgun at her.
He then forced her into a nearby field, where the sexual assault occurred, according to police.
The woman described the man as around 6 feet tall with a medium to thin build and short black hair.
Police said the man, who was wearing a white or yellow T-shirt and was approximately 35-40 years old, was last seen heading south on North Beach Street.
Anyone with information can contact Haltom City Detective Joe Trevino at 817-222-7035 or by emailing jtrevino@haltomcitytx.com.